Quickly Bookmark Multiple Open Tabs In One Click [Firefox Add-on]
Bookmarks are immensely useful but having to mark websites one by one seems like such an exhausting process that someone might just prefer to close a window under the delusion that they can always find the website or web page again. The only problem is that these pages actually prove hard to find again and are the very reason Bookmarks exist in the first place. Enable Bookmark All Tabs, a Firefox add-on, allows you to bookmarks several websites en masse . More specifically, it will bookmark all tabs open in a single Firefox window. A Bookmark All Tabs option is added to Bookmarks menu in Firefox, complete with a keyboard shortcut (Ctrl+Shift+D) that you can quickly use to bookmark tabs. The bookmarks can be saved to existing folders, new folders can be added from the dialog box that opens and each batch of bookmarks is saved to its own folder.
Once you've installed the add-on, a Bookmark All Tabs (Ctrl+Shift+D) option is added to Bookmarks in the menu bar. Click the option or type the keyboard shortcut. An options window will open asking you where you want to save the bookmarks to, i.e., which folder on the Bookmarks bar.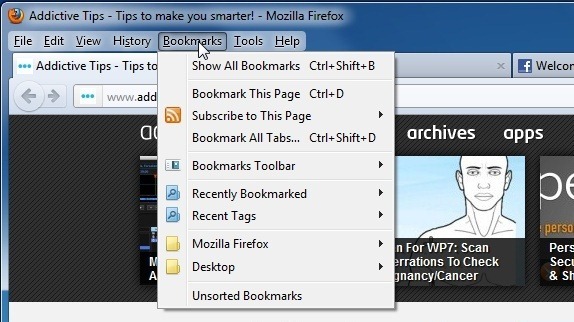 Simple name your Bookmarks, and place them in either Bookmarks Menu, Bookmarks Toolbar, Unsorted Bookmarks, or just create a new folder. Each time you save bookmarks, even if they are saved to a folder instead of just the Bookmarks Bar or to Unsorted Bookmarks, the extension adds them to another subfolder which is meant to keep bookmarks you saved in different sessions separate.  The Name field where it reads [Folder Name] refers to the name for that subfolder. Each time a new set of tabs is saved, a new folder is created in the save location and if you don't enter a name, there will be several folders of the same name saved to your Bookmarks.
The add-on is useful in the event that you've opened a large number of tabs and find you don't have the time to go through all of them.  A lot of people are guilty of having a somewhat messy Bookmarks library and this extension can help you sort bookmarks better. What would have been an excellent addition and a tremendous improvement to the add-on's functionality is if it would add the day and date the tabs were bookmarked on instead of entering a meaningless default folder name. Enable Bookmark All Tabs can be found at the link provided below.
Install Enable Bookmark All Tabs Add-on For Firefox