Quickly Find Information On People And Companies With Tabble Extension [Firefox]
What happens when we come across an entrepreneur's profile or a company in Crunchbase, LinkedIn, Facebook, Quora, etc. We immediately Google the person's or company's name to find more information, right? Well not anymore. Tabble is a new Firefox add-on, developed by WebMynd (a Y-combinator startup), which displays tabs on the right side of the page showing all related information on the person or company from Google, LinkedIn, TechCunch, Twitter, Crunchbase, SEC (Security and Exchange Commission), and Quora. This extension has been developed to help startup companies and to-be entrepreneurs find more information on people and companies as easily and quickly as possible.
After installing this extension you will require logging into some of your online accounts to be able to view pages related to the person or business that you are trying to track results for. For example, in order to find information from Facebook, LinkedIn, GMail, etc, you will have to be logged into your respective accounts. Nonetheless, information from sources such as Google is displayed without any such pre-requisite. With this extension a small window automatically pops-up on the right side of the browser when you visit a profile online. You can simply move your cursor over the icons to view  related web pages.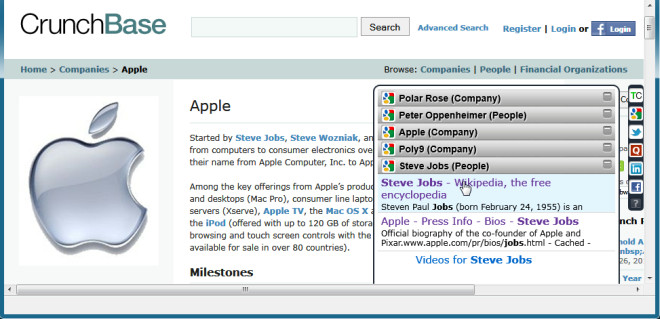 You can also view a list of related emails from your Gmail account. To see any emails regarding the person or business, simply hover your cursor over the Gmail icon to see a list of relevant emails.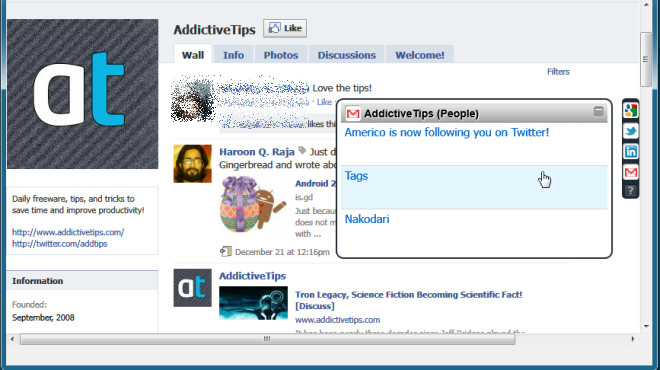 Tabble is a very useful extension for obtaining information about your contacts from numerous websites, identifying spammers, checking the credit worthiness of companies, gaining information about potential clients, avoiding scams and identifying people who add you on your online accounts. Having said that, it is worth mentioning here that the sources to obtain information via this extension are still limited and many famous online resources for such information, such as, Bing and Wikipedia are not yet  available. Nonetheless it is still a very unique and effective extension and developers are likely to add more websites to it in the near future.
Install Tabble extension for Mozilla Firefox