Quickly Manage & Switch Multiple Gmail/Google Accounts In Chrome
Using two or Google accounts at one time can be really bothersome, especially since you can only use one account at a time across all Google services. Quick Login For Google Accounts, a Google Chrome extension, allows you to log into any of your Google accounts with a single click. All you need to do is enter your username and password (optional) in the Quick Login options, and the next time you come across a Google login page, Quick Login assistant will pop-up and let you view all your configured accounts, so you can login with just a click. This extension not only lets you access different accounts, but also works as a password manager, login helper and an account switcher, specifically for Google accounts.
Once you've installed the extension, the Quick Login Assistant button is added right next to the URL bar. Simply click this to access multiple accounts and options. Your account password is optional, and is stored in an encrypted form on the local system. In addition to that, you can provide both your username and password, if you want to get automatically logged in.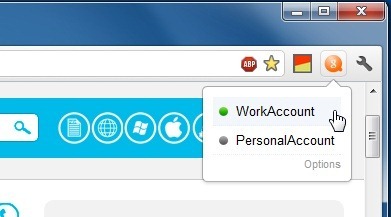 The Quick Login Options let you configure your Google Accounts easily through a one-time setup, and all you need to do is provide the Username and Password for your multiple accounts. Furthermore, you can name each account and click Show Advanced options to enter specific Google URLs.

Managing multiple Google Accounts can become a nuisance over time, as it usually happens with us at AddictiveTips. This extension makes things easier, allowing convenient switching between multiple accounts without the need for inputting the credentials over and over. Grab it at the Chrome Web Store link below.
Install Quick Login For Google Chrome