Reddit Glide: Browse Links Easily With Keyboard Shortcuts [Chrome]
Reddit is quite an entertaining website that lets you find lots of new and funny content, but unfortunately, browsing Reddit can be a hassle, as you either have to open each link in a new tab or in the same tab and then click back or switch tabs each time to go to the main page. Not only is this tiring but if you open all links in the same tab, you might forget what an image caption was or why you found a link interesting. Reddit Glide, a Chrome extension, lets you browse Reddit in a two-pane view with multiple keyboard shortcuts. You can use J/K keys to open links in a new tab, pressing the J/K key instantly opens and rearranges the two windows side by side. As you open new links, the older tabs are automatically closed and replaced by new ones, a maximum of six tabs can be kept open at the same time.
Once you've installed Reddit Glide, simply visit Reddit and start using the keyboard shortcuts, use the J/K keyboard shortcut to open and navigate between tabs. J opens a link in a new tab, whereas, K takes you to the previously opened tabs. You can also upvote/downvote by using the u/d shortcut keys. The L shortcut key allows you to toggle between the the link and the comments page. If you want to close the current tab, press ; (semicolon). Other shortcuts include, Shift+j/k, this lets you check next/previous posts without opening them and Shift + ; (Shift + Semicolon) closes the window with all open links, incase sounds or something weird pops up.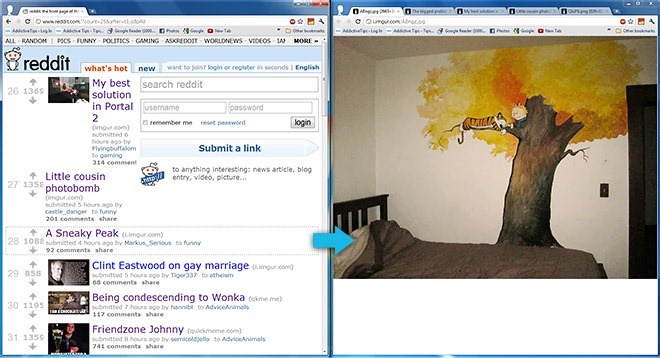 Reddit Glide lets you browse Reddit in a side by side view, which is faster and easier as compared to the default style. Reddit Glide is designed primarily to work with wide-screen monitors but also works fine with small screens. Visit the link below, try it out and drop a comment.
Install Reddit Glide For Google Chrome