Remindeo Lets You Create & Manage Reminders, Add Notes And Lists [Web]
If someone doesn't remind you of the tasks you have to perform in a day, its quite possible that you will forget something during the day. What you can do is note down all your tasks in a reminder that helps you remember everything you have to do during the day. Some days ago, we covered Conqu, a cross-platform application that helps you in scheduling, managing and syncing tasks. Today, we have a web app called Remindeo that provides you with almost the same functionality without having to download anything to your PC or mobile phone. The web app allows you to add reminders, access reminder calendar and planners and add simple notes and lists for safe keeping. Reminders can also be added on Facebook for special occasions, anniversaries and birthdays. Not only does Remindeo remind you about important appontments and meetings, it can also send emails to other people about things to do. More on Remindeo after the break.
Before you can start using Remindeo, you are required to register an account with the service. Enter your Name, Email address, Password, Time zone, Country and click Sign Up Now!. You will be sent an email on the provided email address for verification to complete the registration process.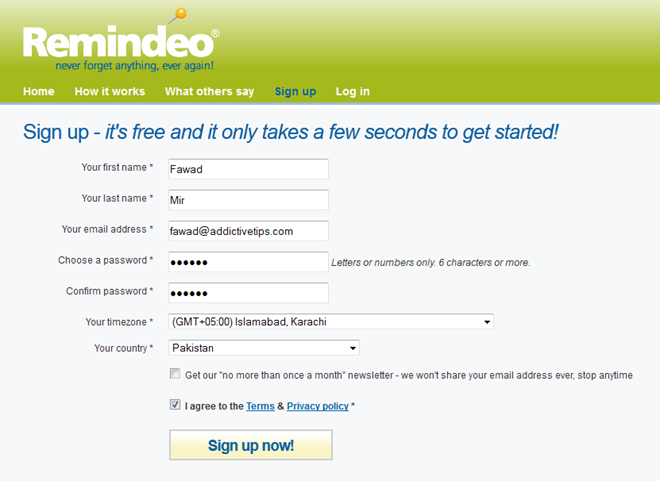 Clicking the verification link allows you to add your first reminder with Remindeo. Other than the usual options of agenda, date and time of the reminder, it lets you select 5 more people for sending notifications of the reminder by entering their Names and Email addresses.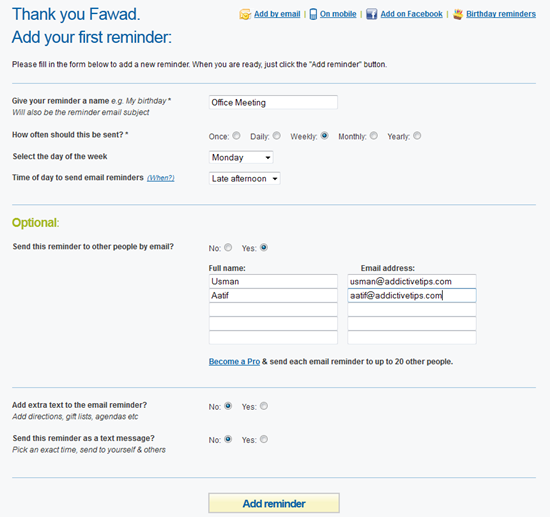 Once reminders are added, you can view and edit them in the Your Reminders menu. The added reminders are neatly displayed in a calendar, which has By month, Yesterday, Today, Tomorrow and Next 7 Days views. You can also search for a reminder by entering its name in the top right corner.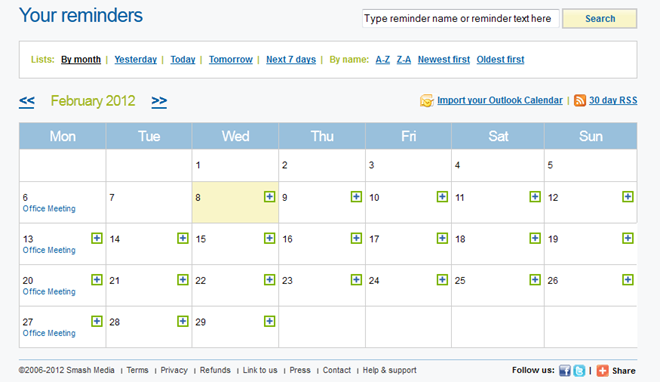 Not only does the application let you create and manage reminders, you can also add notes and create lists using the web app. Just enter the text, specify a note type (for easy navigation) and click Add note to add it.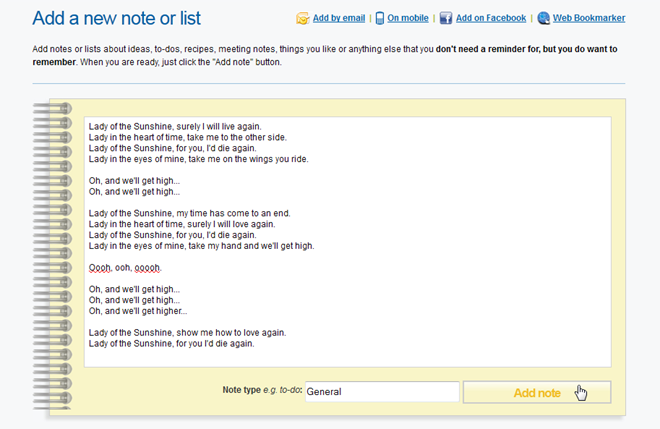 To access you reminders and notes from a mobile device, visit https://i.remindeo.com from any mobile browser. Login by entering your email address and password to Add Reminders, access the 14 Day Planner, Add Notes, Read Notes and Stop/Restart reminders.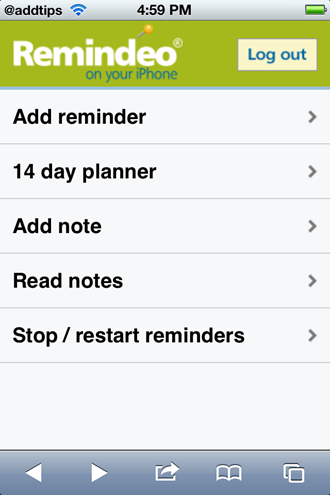 Apart from the web app for PC and mobile browsers, you can also add reminders by email. The complete process of adding reminders through email is listed on the home page of Remindeo.