Revisery – Professional Language Editing For Everyone [Giveaway]
Gone are the days when only book authors could hire professional editors to proofread, make the writeup more professional, and fix mistakes (if any). It often happens while drafting a business letter, sending request to top management, or creating quotations for business clients, etc., that we run short of phrases which must be used to make our writeup look utterly professional.
There is always a chance that your writeup contains some mistakes which you don't even know about. In such cases, you should send the text, for instance, letter, email, treatise, etc., to professional editors, so they can check the basic structure of your document against the widely acclaimed standards, identify subtle mistakes, mark and suggest suitable words and phrases (where needed), and finally, replace lengthy and monotonous sentences with short, smart, and professional looking ones.
Note: Revisery is a paid online editing service, which offers different rates for both subscribers and non-subscribers starting at $6.5 and $7.75, respectively.  We are giving away 9 "250-word" packages to non-subscribers and 1 free three-month subscription of a "250-word" package to a lucky reader. More information on taking part in this giveaway is provided at the end of this review.
Revisery is an online web service, backed by professional editors, to make your text look neat, professional, free from any sorts of mistakes, and importantly, to get your message across effectively. It is founded by Erez Zukerman (former writer at DownloadSquad) and Yaara Lancet, who are professionals writers and translators with vast experience.
So how does it work? Revisery keeps everything straight to the point. You visit the web service, paste your rough draft, business letter, resume, etc., enter your email, and the editors will soon get back at you with, hopefully, infallible text.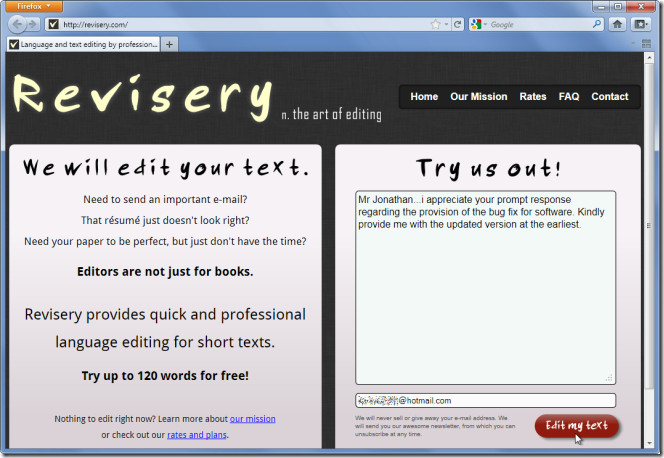 At the moment, you can try out Revisery service for free but only to edit text not more than 120 words. If you wish to subscribe to the service or even want your text to be edited without subscribing, check out complete details and rates here. According to Revisery founder – Erez Zukerman the main idea behind this project was to make your individual blog posts, static web pages, headlines, etc., look simple, neat, and professional. You can try out the service for free by hitting the link below.
Giveaway
This giveaway will only last for 2 days (48 hours). Participation in the giveaway is simple. You need to either follow us at @addtips and tweet the giveway (leave the link of the tweet in the comments box below), or leave a comment on our Facebook page. We will pick out 9 contestants for non-subscribed packages and 1 lucky winner for 3-months free subscription, randomly.