Right Inbox: Schedule Emails In Gmail To Be Sent Later [Chrome]
Right Inbox seamlessly integrates with Gmail and lets you schedule your emails to be delivered at a later time. Using this extension, you can set a date and a specific time for your emails to be sent in future. What should've been incorporated in Gmail by default, Right Inbox makes up for that missing scheduling feature. You can choose any date/time for your messages to be delivered, and Right Inbox will automatically send your emails at the specified time. With it, you will never forget to send an important email. Moreover, the extension has time zone support, so you can even schedule your emails if you're sending them overseas. The extension lets you make sure people receive your emails at an appropriate time.
After installing the extension, a Right Inbox For Gmail is Ready option is displayed when you login to Gmail. Click Continue and grant access to Right Inbox. Once done, a Send Later button will be added to Gmail. The next time, whenever you want to schedule an email, select a time option from the drop-down menu and your email will be saved to drafts. Furthermore, users can also send the email at a specific time. The Send Later button fits perfectly in Gmail's interface and works seamlessly.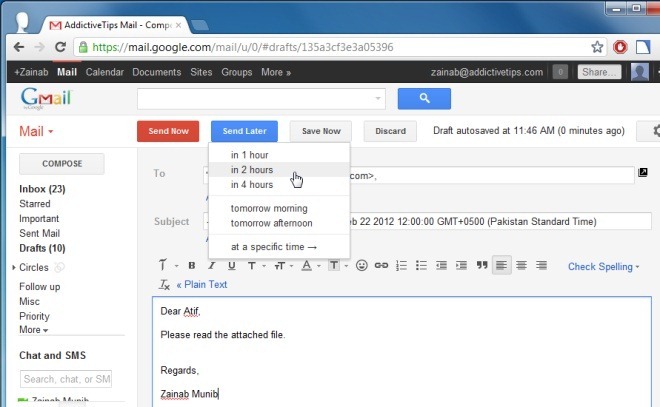 When you click the specific time option, a pop-up is displayed with Select date, time and time zone options. Users can select a date from the tiny calendar and select a time from the drop-down menu. In case, you are sending an email overseas, you can set the time zone as well.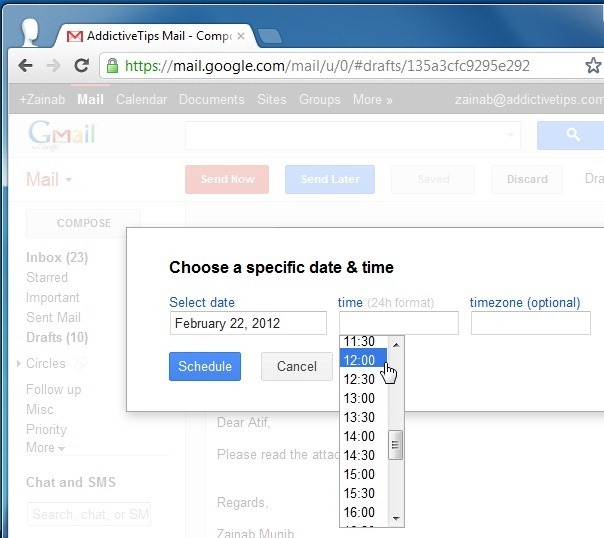 Right Inbox is lightweight, fast and provides users with quite a handy feature for Gmail. You can install the extension from the link below.
Install Right Inbox For Google Chrome