RTBot: Search Engine That Separately Displays Information From Popular Web Sources
While extensively researching a topic online, we have to go through a number of search engines and services, such as Wikipedia, YouTube, Google search, Images and so on. All of this is both time and resource consuming, not to mention somewhat irritating. RTBot is a real-time information service where you can enter a topic title and instantly get related content from multiple sources, from across the web. RTBot simplifies the way you find information and enriches the way you research, explore, discover and monitor topics of interest. With it, you can get real-time content for all kinds of topics, without having to visit a multitude of services. It integrates content from different online sources, such as the aforementioned, plus popular news websites, blogs and more, under a unified interface.
To start off, simply enter your query in the search bar and hit the Search button. Almost instantly, you will be able to view and access results that are neatly organized into various categories, like Wikipedia, Images, News, Documents, Blogs and WebLinks.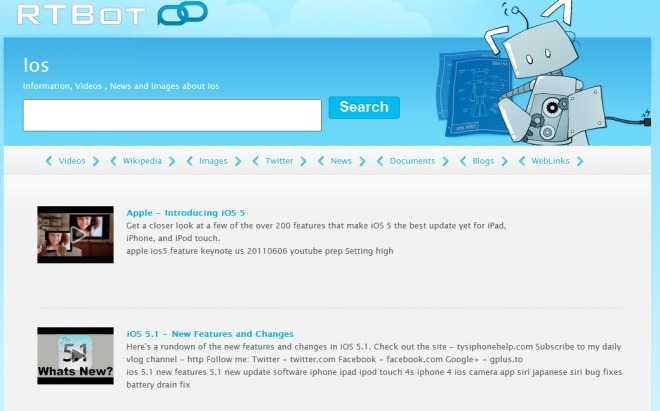 The News category lets you keep up-to-date with the latest happenings around the world, whereas the Documents tab is a great tool for researchers, as it provides Word and PDF documents on the researched topic. Other categories also provide you with real-time information from the best sources available on the web.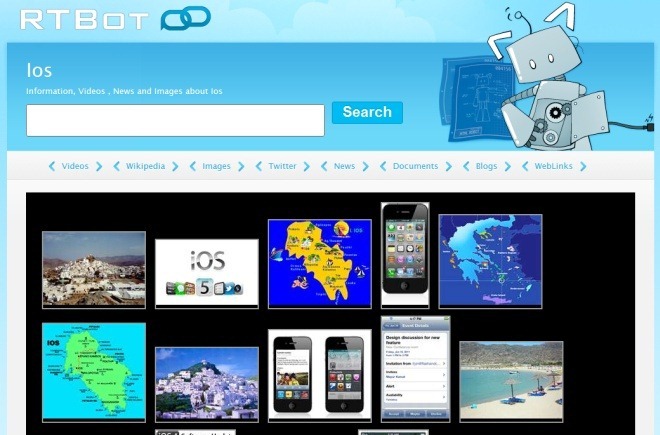 The real question is why should you use another search engine once you've fallen in love with Google? Google's search results are excellent but unless you're using a really good extension, you can't really filter the results to not include results from a particular website or even a category. You can hide a result but that effects the how future results will be displayed to you. This website is more of a focused search; like any other search engine you can enter a query but unlike other search engines, you can define what type of results you're looking by selecting a category. Take for example you want to search for Mac cosmetics but because Mac also the name of Apple's desktop OS your search results will be flooded with results for the computer. This website on the other hand will let you search exclusively in a related category so that you get better results.
RTBot is a user-friendly web application that does not require any registration, and provides up-to-date, real time information from various search engines under a single dashboard. The app definitely deserves you attention, so visit the link below and give it a try!