Rummage Is A Pinterest-Like Web Portal For eBay Items
Currently running hot among avid social media users, Pinterest is a virtual soft board for photos uploaded by users from all around the world. Rummage is a web app that, taking a page out of the social network's book, transforms eBay's dull, boring design into an attractive, Pinterest-like interface, with quick access to large photos for items. This slick search tool gives you a fast, fun, and visual way to browse eBay, and lets you choose categories from a pull down menu displayed at the top of the page. You can enter queries in the search bar to find products of your choice, pin them to Pinterest or purchase them via eBay. Moreover, the light box photo displays, and social sharing buttons make Rummage not only visually more appealing, but also more practical and functional. When you've found an item you wish to bid on or purchase, simply click the View item on eBay button, and you'll be taken to said merchandise on eBay.
To start off, select a category from the menu displayed at the top of the page, or enter a term in the search bar and hit Enter. Products will be displayed as large photos, with Price and Time Left details. You can hover your mouse over an image and click the Make Big or See on eBay buttons.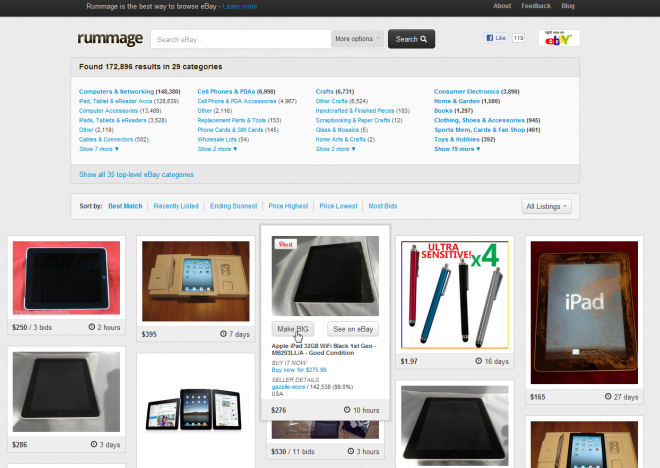 The Make big button lets you view an image in a larger size, along with Item, Seller and Price details. Moreover, you can pin items on Pinterest or View the item on eBay.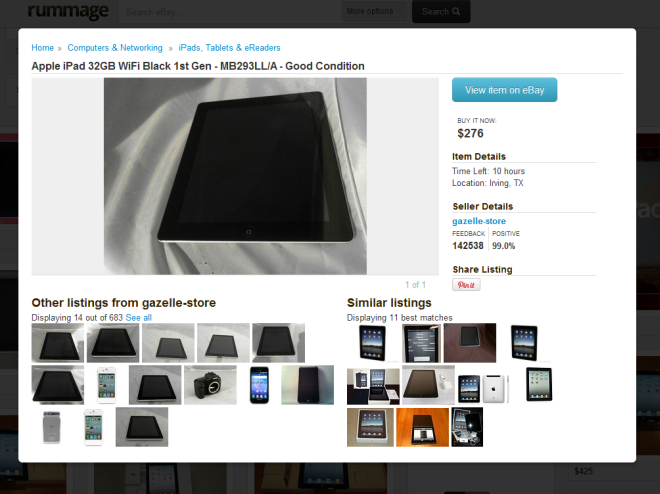 The More options button next to the search bar allows you to change the Sort Order, Listing Type and add Price Filters.

Rummage aims to completely change the way you browse products on eBay, giving you a gorgeous, premium-looking interface. We recommend all regular users of eBay to add Rummage to their list of useful bookmarks and give it a try.