Save And Restore Google Chrome Session Tabs With FreshStart
Google Chrome is one of the most popular Internet browsers. By default, Chrome doesn't offer session restore options. As such, if your PC suddenly stops functioning or your Chrome session crashes, you are left with no option but to start your browser afresh and navigate to the sites you were browsing. This can be especially problematic if you were browsing many different sites in your previous session. FreshStart, an extension for Chrome, provides a handy solution for this problem, enabling users to save or auto-save their Google Chrome sessions.
It is a small extension that sits next to the address bar in Google Chrome. When you click on the prominent green icon next to the Chrome address bar, a small window will pop up. There will be two boxes in this window–Save Session & Restore Session. All the websites you're currently browsing will be listed under the Save Session box. Check all the sites you want to save to the existing session, give the session a new name, and click on Save button.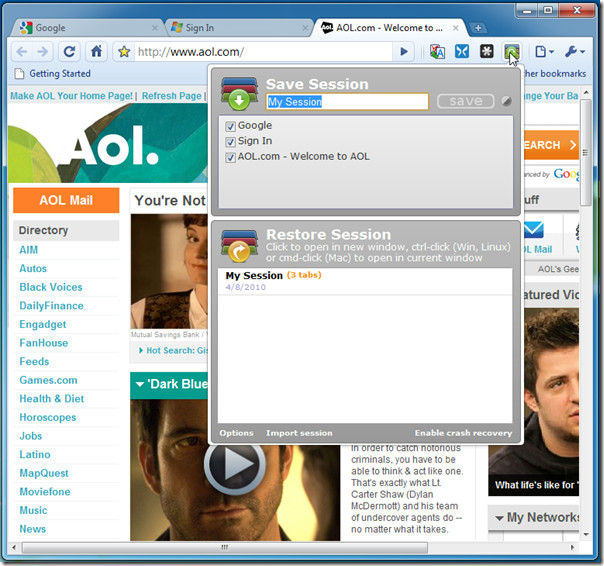 Use the Restore Session box to restore any previously saved sessions if your internet browser crashes or if you close the session by mistake. Click on the session's name to launch it in the same browser window. Use hotkey Ctrl + click to start the session in an altogether new window.
Click Options to access advanced options. Here, you can auto-save sessions by clicking on Enable Crash Recovery option. You can also specify the time after which a session is to be saved automatically. The default time is 5 minutes. Click on Save to save your settings.