Save And Sync Browsing Session To The Cloud With 8cookies [Chrome]
Moving from one system to another, whether it's from home to work, or from your laptop to your desktop isn't easy because you it isn't just about signing back in to your email or reopening a couple of documents; it's about what you were working on and how you'd grouped tabs in different windows, kept things organized and all those important pages you had open. 8Cookies is a Chrome extension that makes the transition seamless. It saves your cookies and open windows to the cloud, you can restore it at any time from any Chrome window by signing in to your account. The extension also lets you create restore points for your browsing sessions.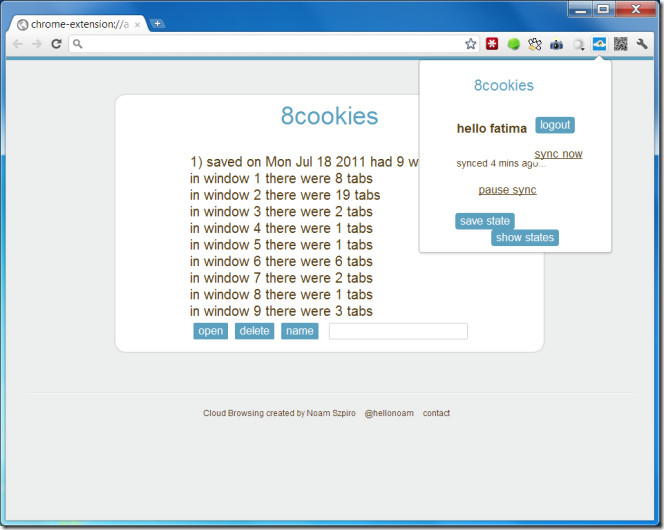 To start using the extension, you have to create an account, it currently requires an invitation which you can request from the site. Once signed up, the extension starts syncing your session to the cloud, you can also force it to sync by clicking on the extension's icon and hitting Save State. To restore a saved state, sign in to the extension, click the icon and hit Show States. The extension will open a list of all saved states in a new tab. Each state is saved by date and the number of tabs open in each window and can be restored by clicking the Open button. You can delete sessions, create backup points or delete your profile and all data any time you want.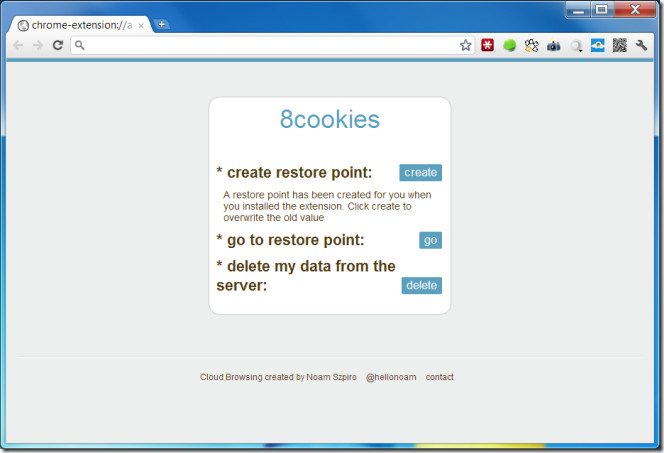 Compared to the previously reviewed Sesh extension for Chrome, this one has the added advantage that it also saves your cookies which means you don't won't need to sign in again to your email account or anywhere else for that matter.
Update: The developer wrote in to let us know that the sync now button forces the extension to sync and that the Save State button only creates a snapshot of your browsing session. The developer also gave us a code  ILOVECOOKIES for those of you more than eager to try it out. It should be valid for a few sign ups.