Schedule & Queue Messages For Facebook, Twitter And LinkedIn [Chrome]
You've no doubt come across apps and extensions that allow you to manage Facebook and Twitter accounts at the same time. With the recent change in Twitter's API, some of you might just be in the market for a new app or service to manage both your Twitter and Facebook feed. GrabInbox is a Chrome extension that works in conjunction with a web service. It lets you manage your Twitter, Facebook, and LinkedIn feed and also schedule status updates and messages. It allows you to choose what type of activity you want to monitor for each account and gives a single dashboard to view it all.  The scheduling options let you schedule messages for a later date and time. GrabInbox lets you easily share any webpage that you browse across your social networks. You can queue links and schedule posts for a later time and date. After you install the extension, a button is added right next to the URL bar. GrabInbox allows you to post the same links on multiple sites without having to open several tabs. You may add Twitter, Facebook and Linkedin accounts along with Facebook Fan pages.
You will need to first create an account with the service but your Facebook or Twitter account can be used to connect with it. There are two ways to post and schedule an update. If you want to share a link, use the Chrome extension or the bookmarklet if you're using another browser. It will automatically add the URL to your update, you can choose which accounts you want to share it to and then select a date and time to queue it. While you can use this same dialog box to update a simple status update too, the web service's interface might be more suitable if you don't want to erase the URL before you type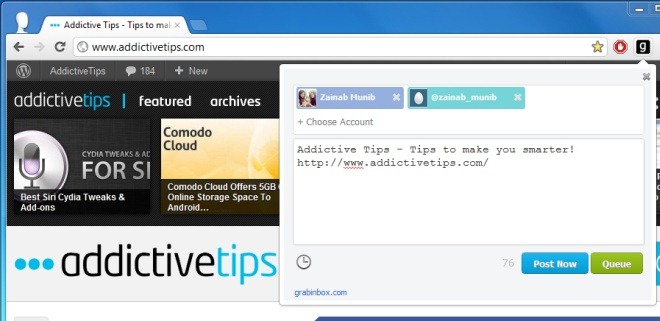 You will find Scheduled Messages, Queue and Analytics options on the website in the left hand bar and at the bottom of the box that the extension opens. The advantage of using the web interface is that you can vie a comprehensive history of the updates you've scheduled and remove them if you want.  You will find Scheduled Messages, Queue and Analytics options on the website.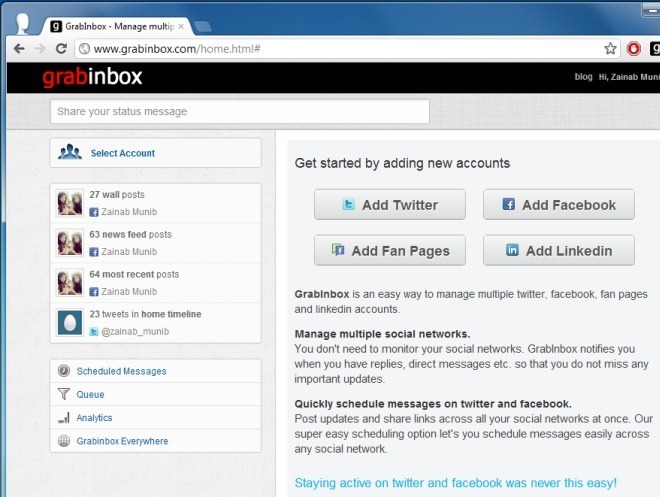 GrabInbox lets you conveniently post the same stuff to all your social networks with a click or two. Grab the extension from the link below, give it a try and let us know what you think!
Install GrabInbox For Google Chrome