Schedule Your Facebook Posts And Status Updates With Postcron
Postcron is a web app that lets you schedule posts and status updates for Facebook, you can schedule pictures, text updates and links to be posted to your wall from the app's interface. Some of you might laugh at the idea of scheduling your updates because what you say on Facebook comes from deep thought and wisdom or because you have random brain storms of intellect that you generously share with your friends but the app can be extremely useful for bloggers who post their daily content to Facebook and would like to space them apart at reasonable intervals so that it doesn't seem like spam. It can be equally useful when you want to share something on your Facebook wall at work but don't want to be seen opening the site.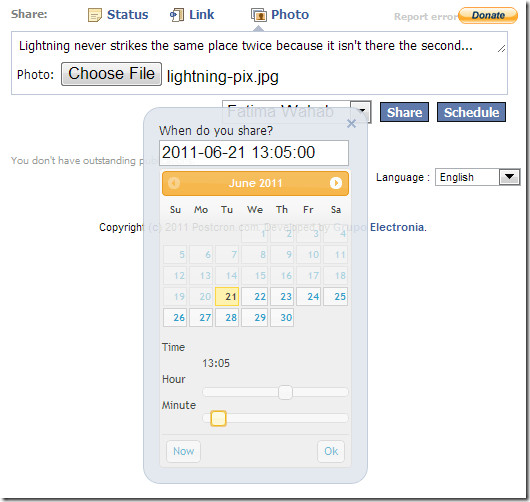 The interface is simple and reminiscent of the status updater in Facebook. You can upload a status, link or picture. The site does not support videos or lets you post questions to your wall. To schedule an update; enter text, attach a photo or paste a link and click Schedule. A box will open allowing you to choose the date and time when the post should be added to your wall. You can see all scheduled posts and edit them later from the app's interface. Clicking on the Share button posts the update immediately to your wall. You can also schedule posts to pages that you own.