Scroll Between Tabs And Customize Your Mouse Settings In Firefox With MouseControl
MouseControl is a Firefox extension that allows you to customize mouse settings to scroll between tabs, open/close tabs,  duplicate current tab and change zoom levels from the mouse buttons.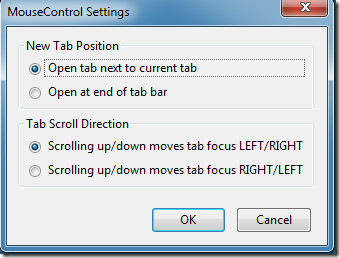 To configure settings, click on the Options button (accessible from the Tools, Add-ons section). From here you can set whether you wish to open new tabs next to the current tab or at the end of the tab bar. You can also set scrolling options and choose between a right to left or left to right tab view.  A list of numerous functions that you can perform with the mouse via this extension are as follows:
To open a new tab: double click the right click button.
To scroll between tabs: hold the right click button and use the middle scroll to move between tabs. Left click to return to original tab.
To close a tab: click on the tab with the middle scroll.
To open a closed tab: hold the middle scroll button for a second.
Duplicate tab:  hold duplicate tab after right clicking twice
Zoom in/out: hold left mouse button and scroll up and down to zoom in/out. You can reset the zoom levels by clicking the middle scroll.
MouseControl is quite a dynamic extension that adds new features to the mouse buttons in Firefox and makes it easier to manage tab functions via the mouse. This extension works with Firefox 3 and 4 (b8pre).
Install MouseControl Add-on for Firefox