Search Multiple Engines & Services via Context Menu & Omnibar [Chrome]
Google is without doubt the best search engine there is but that doesn't mean bing and Yahoo can be discarded completely. For those who prefer being thorough, Multi Search, a Chrome extension, lets you search for keywords on multiple search engines via the right-click context menu and the Omnibar. It comes with an extensive list of search engines, which allows you to search for keywords with only a click or two, and you can easily customize the context menu by adding your desired search engines. Furthermore, it gives users the ability to synchronize and import/export settings to other browsers and computers. Once you're done with the settings, simply highlight keywords and choose a search engine from the context menu to carry out your search. Also, the Ominobar can be used as an alternative to the right-click context menu.
Once you've selected the options, you will be able to search the keywords from the right-click context menu and the Omnibar. Select the text which is to be searched, right-click it, and from Multi Search, select a search engine.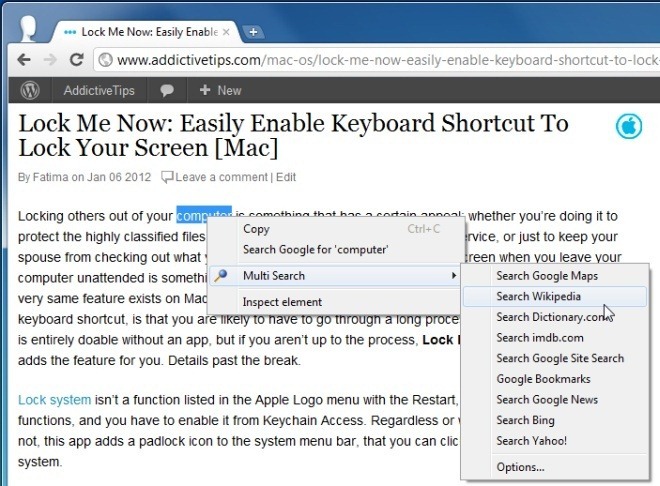 You can also search for keywords from the Omnibar by simply typing Multi, hitting the space bar, entering the omnibar tag and your keyword. Multi Search will instantly display results for your search.

You will find three different tabs in Multi Search Options, viz. Basic Settings, Search Engines and Import/Export. The basic settings allow you to Synchronize settings across multiple computers, Auto Focus the first opened tab, Disable Search on Context Menu and more. You can add, edit, delete and move the search engines up and down the list from the Search Engines category. Synchronization uses Google Docs to store your data, and you will need a Google Docs account to use this feature. If you activate this feature, you will be asked to grant permission to Multi Search for accessing Google Docs.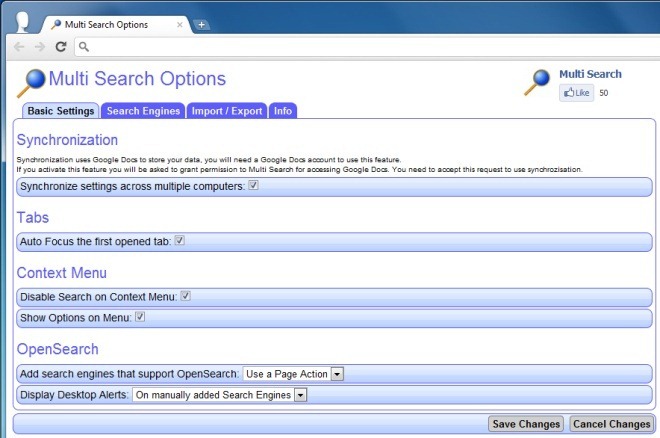 Furthermore, you can add search engines by entering the Caption, Omnibar Tag and a link for the Search Query. Also, you can enable both the Omnibar and Context menu search for separate or all search engines.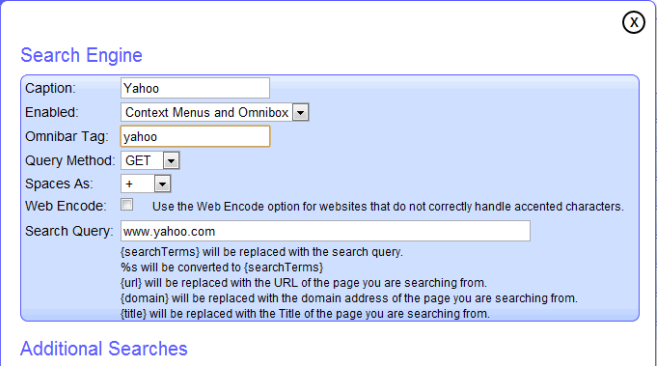 The import/export option allows you to copy the text, so you can export your settings to another browser without using synchronization. You may also use this feature to back up your settings.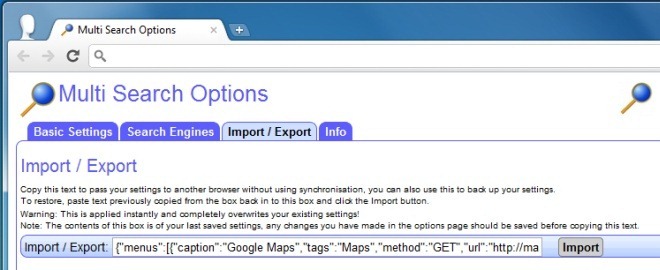 The extension can come in particularly handy for users who need to extensively search topics on different search engines. Visit the link below, try it out and let us know what you think.
Install Multi Search For Google Chrome