Send Private & Secure Emails To Selected Recipients In GMail
It is very common for a working professional these days to come across a situation where he or she is required to send an email to several people in a team or group at once, but still would like to add some additional information for only a few of them that no one else sees with sending a separate message.
BCCThis is a Firefox add-on that lets you send a message, other than the main body in GMail to one or multiple recipients. The purpose is to keep your secrecy by giving you liberty of sending an additional message that is added at the end of your main message to a specific contact from the message recipients.
BCCThis also comes as a plug-in for Outlook. So you no longer have to leave your composition window for anything but composition!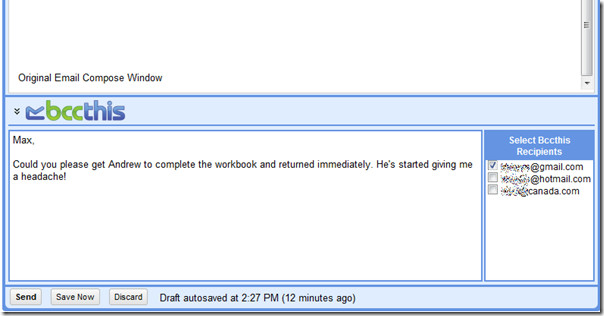 It fits with your GMail account just as an added tool, making it easy for you. When you click the compose message button, the composition box expands so that there are two separate fields, one for writing your main message and a second one underneath for a specific recipient.
It is also very easy to configure. Once you've installed the add-on, all you have to do is click Options and add your GMail account information. It'll quickly validate your credentials and voila, you're in!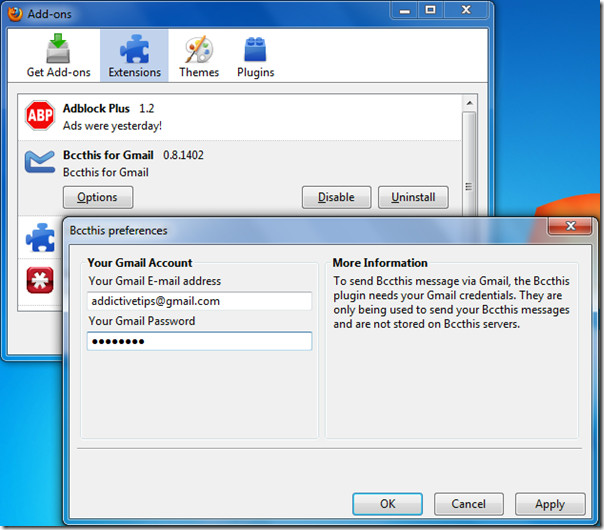 BCCThis is an absolute marvel for what it does, considering the amount of time it saves you. Besides it's so easy to use you can start using it right away.