Shopseen: Follow Other Shoppers And Find The Best Bargains & Deals [Web]
Are you a shopaholic who is always in search of a good deal or bargain? shopseen web app lets shoppers get a real-time look at the latest deals out there, from the comfort of their web browser. With shopseen, you can share and discover new products, sales, trends and events. It requires a lot of effort and time to keep track of all the different deals, so shopeseen makes things simpler by letting you follow others and find the best products and events. Furthermore, you can see deals from the best sites and add filters to them. shopseen also claims that it will soon start share affiliate cash with you, when people make purchases from your chosen pick. So, pick the best deals and don't forget to share them.
You can either sign in using your Facebook account or register on shopseen. Once you're logged into the website, you will be able to see the most Recent Picks, along with Popular Picks on the right hand-side of the page. You can follow these or search for new ones.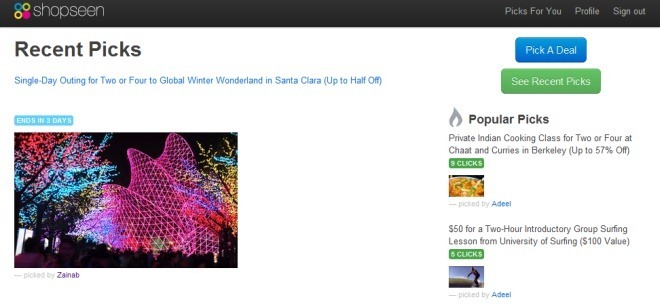 Click Profile to access the best deals around you. Using your profile, you can browse through Pick Deal, Past Picks, Payments and Settings. The Pick Deal category consists of all the deals around you. A great feature of shopseen is that you can filter deals using a drop-down menu, according to Newest, Oldest, Price (low to high or high to low), Ends Soonest and Ends Latest. For each deal, you can view the Value, Discount, Price and Ends In options. In order to see more details, click View to go to the source website, or just simply Pick a deal. Once you've picked a deal, you can also choose to tweet it using the Share option.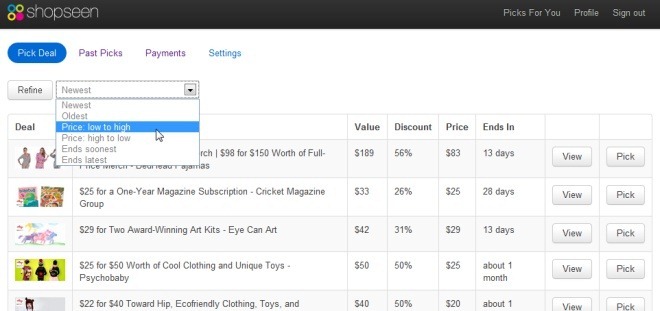 You can view all your deals under Past Picks, and in addition, the number of clicks on each of them.

shopseen also allows you to refine filters for sources. Check or uncheck different sources according to your preferences, and click Refine.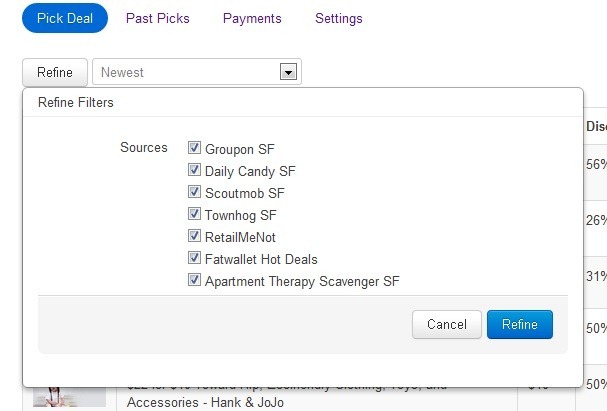 This is quite a useful web app that allows users to have a more interactive shopping experience, not to mention the added comfort and savings. The website is still in it beta, and is working on the Affiliates accounts, so there wont be any cash rewards until that's done. Visit the link below and start finding the best, latest deals and bargains.