Snooze Your Email For Gmail Schedules Email Notifications In Chrome
Whenever you receive a new email in Gmail, a desktop notification pops up to let you know you have mail; the notification is clickable and sticks around for a few seconds in the lower right hand corner of your desktop (above system tray). Whether you choose to read it then or later, that notification is most likely the last that you're desktop will see of it. If you plan on following up on the email, you'll have to flag it and check back in your inbox daily to see what needs to be done and when. An easier way to get back to read or unread messages without relying on your own memory or returning to your inbox, is by using Snooze Your Email For Gmail extension for Chrome.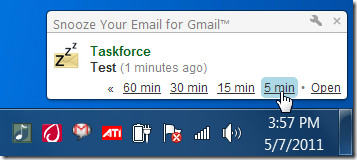 The extension works as an added feature in Gmail; when viewing an email, a snooze button is added next to the 'More Actions' button. Clicking on the button opens a drop down menu that lets you set a snooze time. You can select a time interval or select any day of the week to schedule the notification. Users can also set a time to schedule the alert or set a specific date for the alert.
The extension gives you the option to play a sound when the alert pops up and to mark the email as unread. When the notification pops up, the user can either open the mail by clicking on the pop-up or reschedule the notification.
Install Snooze Your Email For Gmail Extension for Chrome