Social Searching – Search Your Old Facebook Posts And Tweets (Twitter)
Facebook and Twitter aren't just the sites you go to get your daily dose of laughs; both services are used extensively to share information but trying to find an old yet useful Tweet or Post isn't always the easiest thing when you have to scroll through a ton of feeds or wall posts. Social Searching is a web service that makes it easier to search Facebook posts and Twitter tweets. It's like a personal search engine for your accounts; instead of entering the post/tweet text precisely it lets you use keywords (words used in the posts/tweets) to find what you're looking for and lists all matching results. You can search your own updates or those of your friends.
For the avid tweeter, this service will be all the more useful since it lets you search tweets more than 2 weeks old (which Twitter doesn't). To search for an old tweet, enter a Twitter ID for the person who's feed you want to search and any word that you recall from the tweet you're trying to find. The service will list all tweets with the matching words. The search can be especially useful if you've forgotten which hash tags were used in the tweet or if the person who's feed you're searching uses the same tag in all feeds.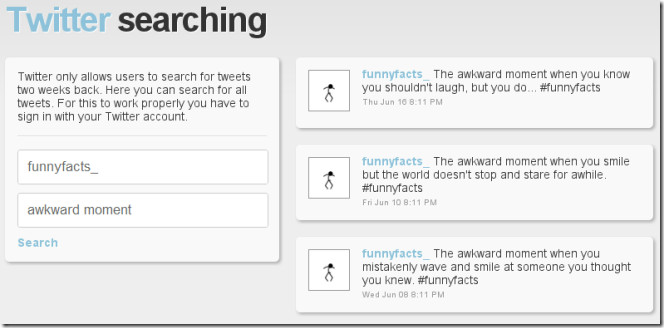 To search for old Facebook posts, type in your name in the search friends or you bar or if you're looking for an update from a friend, start typing in their name. The service will list your friends' names for you to pick from. Enter what you're searching for in the what bar and hit search. All posts with matching words will be listed. You an use the search to look for videos posted or for captioned photos. If you click the Search Everyone? option, the service will search all public Facebook wall posts for the phrase you entered.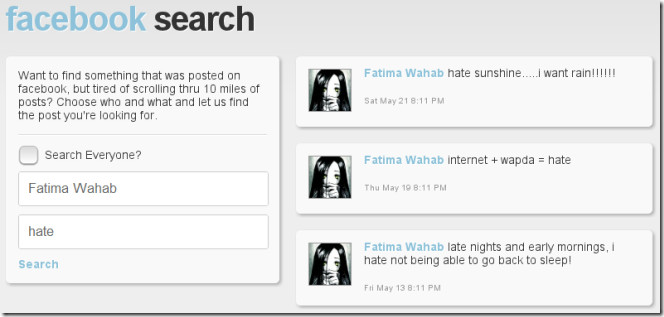 Since Tweets are text only, the service can list them all but Facebook posts can be pictures, videos, links or text so the service will list text or video descriptions and links (if posted as text). To make search more effective, use the service to find the complete post and enter it in Facebook search to trace a link in the post. The service is great but what's missing now is the ability to redirect to the relevant post/ tweet when you click on a result.