Speckie Adds Real Time Spell Check In Internet Explorer 9
Are you hanging on to Internet Explorer 9 and badly need an efficient spell checker to identify and correct spelling mistakes? Today, we have an awesome spell check extension for Internet Explorer, called Speckie. It highlights mistakes in real time and suggests you a list of corrections. The extension allows customizing numerous spell check related settings whilst supporting multiple dictionaries. You can alternatively replace the squiggly line that underlines the incorrect words with not only customized highlighting colors but fonts as well. Apart from this, you can switch between 4 default mistake tag styles, ranging from highlight, single, thick-dash, and wave.
The noteworthy part is that Speckie supports adding dictionaries. If you want to, lets say, include German dictionary, just head over to Speckie product page and download it. Once downloaded, you can either replace the default English dictionary or add it in the list.
You can check out the suggested corrections for spelling mistakes from right-click context menu (see screenshot below).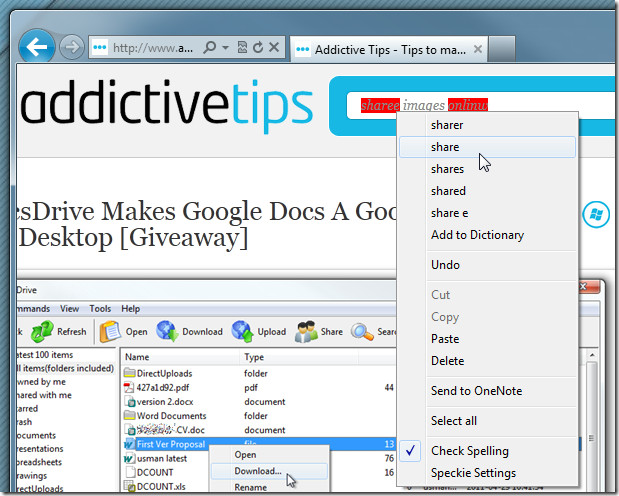 Speckie settings can be accessed from either right-click menu or Settings –> Manage add-ons. By default, it doesn't check spelling mistakes in single line text fields, however, if you want to check mistakes in, for instance, websites search field, enable it from Spell Check section.  The Tag Properties contains all the supported word highlighting styles with option to customize each style.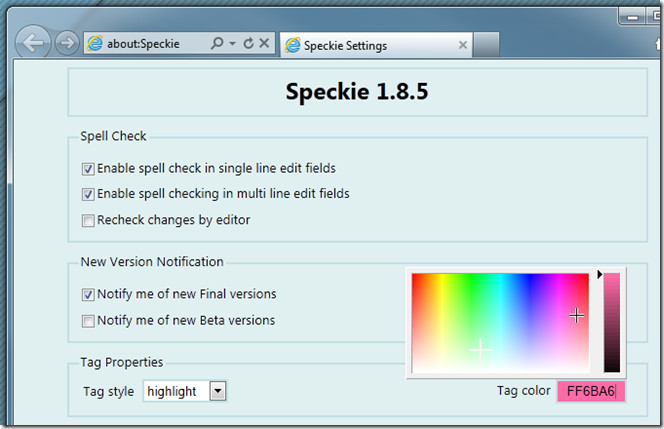 Underneath Tag Properties, you can add more dictionaries and replace existing one. Check out a list of available dictionaries here. Speckie is available for both 32-bit and 64-bit IE editions.