Startino – Simplified Online To-Do List And Task Sharing
The best to-do list and task manger is one that doesn't complicate the way you check up on tasks and manage things to do. Startino is a simple web service that combines a to-do list and task manager. You can start using it immediately with just a Google account. You can share tasks with just about anyone, categorize and edit them any time and organize them however you want. The service has no paid version but displays advertisements. The great thing about this service is that you get everything on one page, no jumping around different pages to find completed tasks or less important ones.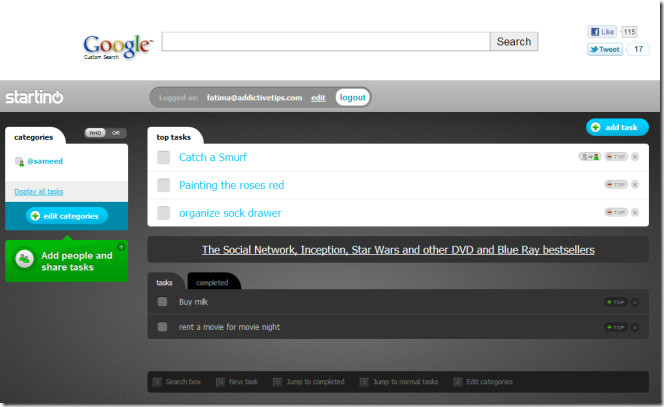 The interface is simple and straightforward and free of dates and timeline; categories appear in the left panel, tasks are listed first with an Add Task button to add more tasks. Each task has a title and a description. You can view your more important task in the panel on top and the less important ones in the tasks tab below.

To add a task, click the Add Task button and enter a title and description. To share the task with someone or to assign it a category, select the category from the left panel. Click ok to save. The tasks can be edited any time by clicking on them. To move a task from the top panel to the one below, click the Top button next to a task when it is in the top panel and it will relocate the the bottom one. To return a task to the top, click the Top button next to it in the Tasks tab. To see completed tasks, click the Completed tab.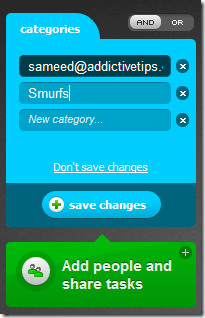 To add a category or someone to share a task with, click the Edit Categories button and type in as many categories as you want, type in an email address in the category box and you will be able to share a task with that person by simply adding them as a category. Once you're done, click Save Changes. It's that simple.