Statigram – View Instagram Profile Stats And Useful Metrics
Instagram pretty much changed the way iPhone users share pictures and for that matter, all of life's picture worthy (and unworthy) events. Instagram sees an average of 6 photos being uploaded per second; and is nothing short of the Twitter of picture sharing. Unlike Twitter; which has multiple web services providing profile stats to its users, Instagram users were neglected up until now; Statigram is a web service that gives detailed stats of your Instagram account.
Stats can be viewed at the Statigram site where you sign in using your Instagram account. It's a free web service that provides a summary of your picture sharing activity in simple graphical representation.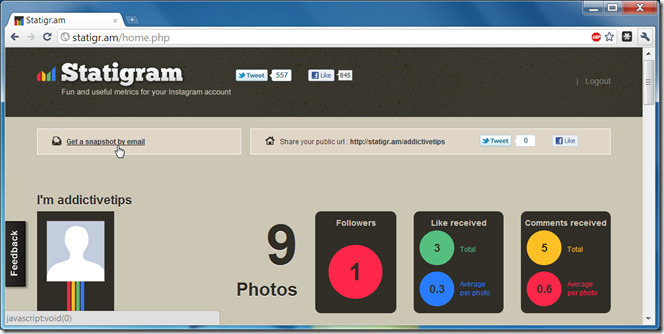 Statigram account overview tells you how many photos you've uploaded, how many followers you have and the total and average number of likes and comments you've received. Apart from the account summary, Statigram tells you which photos are the most popular based on comments and likes received.
A monthly overview of your activity is also given; you can scroll between different months to find out when you uploaded the most photos. The service also taps into your tags and your Instagram community. It will list tags associated most frequently with photos, your favorite or most frequently used filters, how many of the uploaded photos have filters and how many don't. Statigram can tell you which of your followers most frequently engages with you and who you frequently engage with.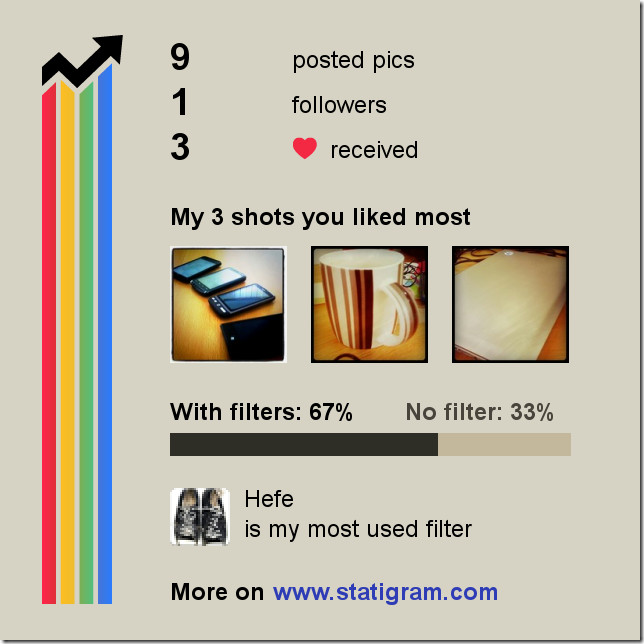 Apart from this, you can also email yourself (or a friend) a summary of your stats. To share your Instagram account with friends, you can share your profile on Twitter and Facebook through Statigram. For the ordinary user, this is just plain fun, for companies and brand names that found Instagram to be a great way to interact with people, Statigram will be a great source for feedback. It's worth mentioning that Statigram is not meant to be viewed on the iPhone, at least not yet. A mobile site for the service does seem logical because users are likely to want to check their account stats from their iPhone.