Stop YouTube Videos From Automatically Playing When Launched [Firefox]
Sometimes, when you open a bunch of YouTube videos, all of them start playing at the same time. This can be quite annoying, as you individually have to pause or close each video. YouTube AutoPlay Stopper, a Firefox add-on, solves this very common problem that many users face, and stops YouTube videos from auto-playing. The great thing about the add-on, is that it works automatically, and you don't have to do anything once you've installed it. Every time you open a new YouTube video, it won't auto-play; instead, a Click To Play button will be added to the video, which you can then click to watch the video. Also, in playlist mode, the next video auto-plays once the current video ends. YouTube AutoPlay Stopper even works for these playlist videos, and stops the next video from auto playing, even when YouTube's Autoplay option is enabled.
Once you've installed the extension, you'll notice that a Click to Play button is added to YouTube videos and there is no pre-buffering. With this add-on, you can open as many videos as you want, without having to control them. To play a video, just hit the Click to Play button and enjoy streaming, without having to worry about other videos being played at the same time.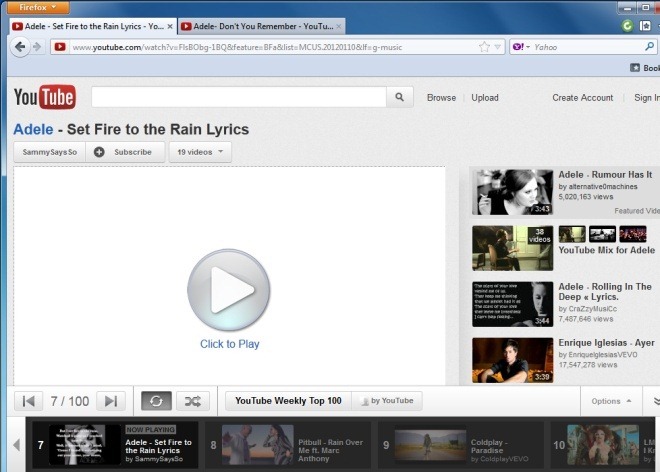 If you replay the video, the click to play option will not appear again since it has already buffered. The add-on is useful if you want to open several videos that you intend to watch but not drag down the connection speed while you watch one of them or you do something else before you get down to your viewing list.
The major flaw with this add-on is that it only appears to work on YouTube itself and not on YouTube videos that have been embedded on other sites. This means that if you're following several different feeds in Google Reader and some of the stories you chose to read on the sites themselves have embedded YouTube videos, they will all begin to play at once. Not only will the audio make no sense but your connection will drag down to snail pace. Since the add-on only works on YouTube, it is very limited. A feature to stop video ads playing automatically would be welcome.
For a similar functionality on Chrome, check out YouTube Autoplay Disabled. YouTube AutoPlay Stopper works seamlessly, and has no buttons or options whatsoever. Visit the link below for a better YouTube browsing experience.
Install YouTube AutoPlay Stopper For Firefox