Strike Lets You Create Truly Personal Lists For Things To Remember
There are a multitude of to-do list apps available online, both free and paid, but if you still find yourself scribbling away on pieces of paper or maybe just taking things down on your hand because it's simpler you might want to give Strike a try. Strike is a web app that lets you create to-do lists and the interface is as simple as it gets. It requires no sign-ups, you don't have to enter a date or time for getting the task done and no annoying email notifications reminding you that your task is over due.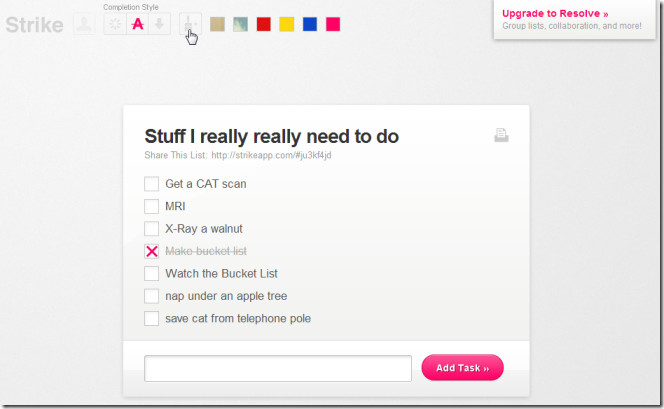 You can add as many tasks as you want to it and once you're done, you can either strike them off or remove them completely or move them below the add task bar. The buttons on the top left let you choose one of the aforementioned methods for striking out a task.
Strike lets you create as many lists as you want; for each list it creates a unique URL which is the only way of getting back and finding your list again so you'll want to bookmark it. The lack of time and calendar options may seem like a short coming but the app is more suited towards stuff you just have to do at maybe, the end of the day, the week or when you get time; put simply it's for those tasks that you can't define a date or time for.