Stylish Is A Great User Styles Manager For Firefox And Chrome
User styles can be understood as website-specific themes, but with the difference that they do not run on the webserver, but rather on the user's end. How it works can be considered quite similar to the way Greasemonkey scripts for Firefox work, although this is simpler and easier. Using UserStyles, you can enrich your browsing experience with more control over what is being displayed and how it is being displayed. For example, you can take out irrelevant content, change colors, add extra functionality and in some cases, entirely redesign the website. In a nutshell, Stylish and userstyles.org are to CSS as Greasemonkey and userscripts.org are to JavaScript.
Stylish is a user styles manager available both as an add-on for Firefox and extension for Chrome. You can manipulate, add, remove, modify user styles with just a few clicks of the mouse, without any coding knowledge whatsoever. Together with its companion website, www.userstyles.org, which hosts thousands of Stylish-compatible scripts created by the user community, Stylish can altogether change your browsing experience and take it to a new level.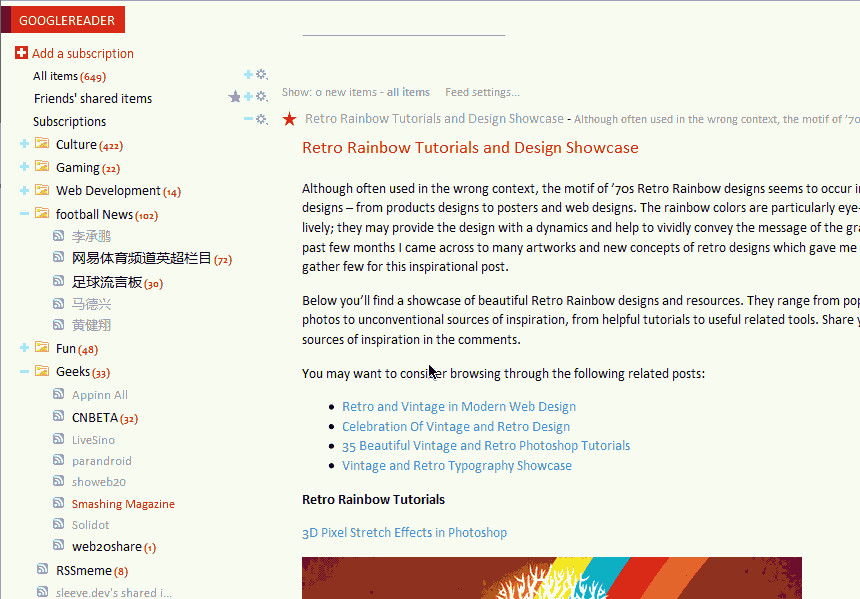 The above screenshot shows a styled Google Reader page. You can browse the huge library at userstyles,org for more user styles. With Stylish installed, every user style's page will offer a green installation button – hit that, and the next time you visit that website for which you got the style, it will appear in a totally different light.
Install Stylish Extension (for Google Chrome)
Install Stylish Add-on (for Firefox)