Stypi Lets You Chat & Code In Real-Time By Sharing A URL [Web]
There are many chat clients for desktop out there like Windows Live Messenger, Yahoo! Messenger and Skype that allow you to chat with your friends. Even though they all are quite useful, the requirement to download and install in your system and then register with them takes too much time. Other than that, the person you want to chat with also needs to be registered with the same chat service as you. Stypi is a web-based chat service that eliminates all those boundaries and enables you to chat with other people just by sharing a URL with them. You don't even have to make an account on the Stypi website to use the basic features offered by the sevice. More about Stypi after the jump!
The chat is displayed in real-time, on the main interface of Stypi, to everyone connected to the service. Since the web service uses HTTPS (Hypertext Transfer Protocol Secure) URL scheme, it creates a secure channel providing you with protection from eavesdroppers. There's really no rocket science involved in using Stypi; just visit the homepage (link given below) and a link for your private conversation will be automatically generated by the service. You can share that link with all the people you want to invite for chat and you are good to go.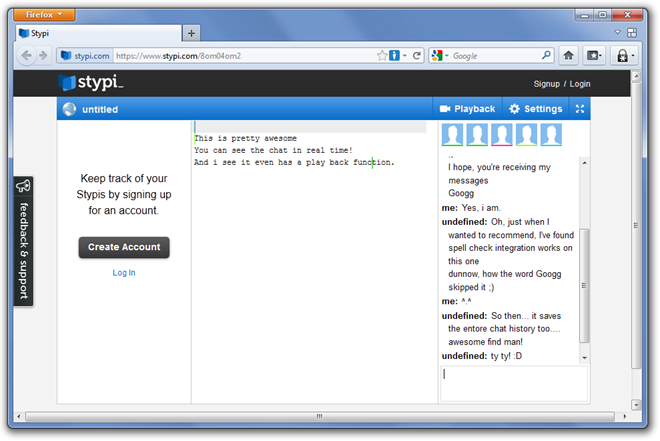 If you are chatting with one person and you share the link with another person, the new participant will also be able to see the complete chat history of the current link, menaing that you can include new people in a conversation and they will be automatically be updated with whatever you have discussed previously. Stypi shows the chat in real-time, so that you don't have to wait for someone to completely right their message and then send it in order for you to read it. You can just read the messages as they are being typed.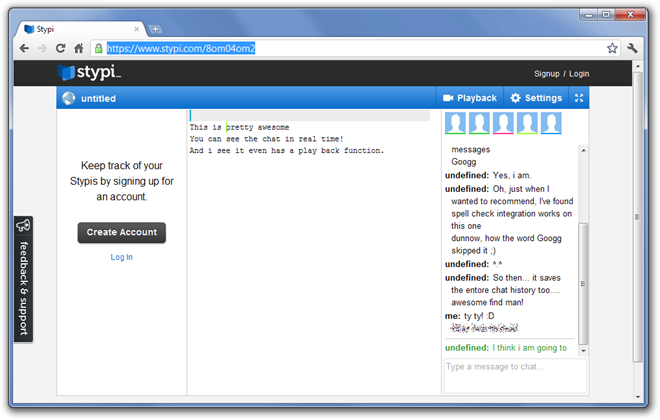 The application also lets you create an account enabling you to to customize the chat client such as creating chat groups from New Files and New Folders. Each group has its own unique URL allowing you to chat to different people in different chat groups. Right-clicking a chat group name gives you options to Open, Share, Make Private, Rename and Delete the group.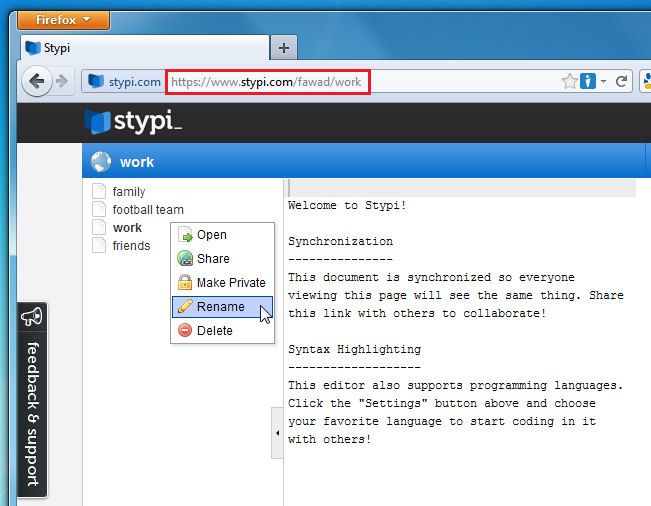 The conversation can also be played back like a move by clicking the Playback button given at the top right side. The Settings button lets you change the font size, background of the main window and since Stypi supports programming languages such as C++, HTML, Java, Markdown, CSS Python etc., you can choose a language and start coding in it.