Subpug: Read Feeds In A Beautiful RSS Reader With Comments & Filters [Web]
Google Reader lets you read feeds from all your favorite websites, but if you're bored of the same old dull look and want to browse feeds with a better visual experience, then Subpug brings all your favorite websites, blogs and news sources into one convenient place. This RSS reader is specially designed for reading long articles without any visual clutter. With it, you can add feeds from your favorite websites or read feeds from existing categories and you can also hide the topics that you don't like. The service does not require any sign up or account, and all you need to do is choose a subscription starter package, and your subscription will automatically be saved in your browser. The first thing you will notice on the homepage is a set of  categories;  Gadgets, Fashion, Gaming, Design, Music, Fashion, Geek Humor and more. Each category has a few subscriptions added to it. You can either subscribe to one of these categories or build your own by clicking the Blank starter pack option. The web app also give you the option to import your Google Reader OPML from the settings. The set up process is very quick and the feeds are added to the website in seconds.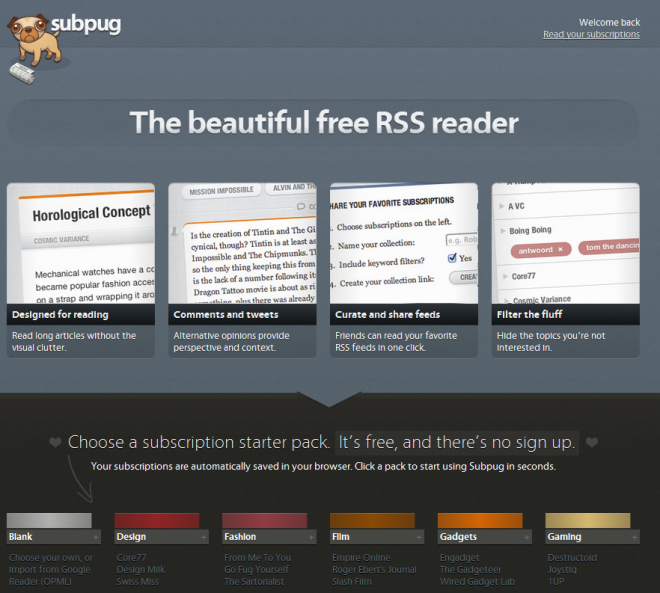 Once done, your feeds will be loaded in a slick grey background and a nice, clean layout. At the top of the page, a toolboar gives you options to view only a single feed from the ones you've added, to view unread item (the lightning bolt button), move to the next or previous item, mark all items as read, refresh the feed and change the feed view. The last button which looks like the classic RSS icon, lets you add more subscriptions to the current ones. Not only does Subpug lay the content out in a clutter free interface, it even retrieves the tags/comments from posts and displays them on the right hand-side of the article. Furthermore, you can switch between the Normal View and List View from the toolbar.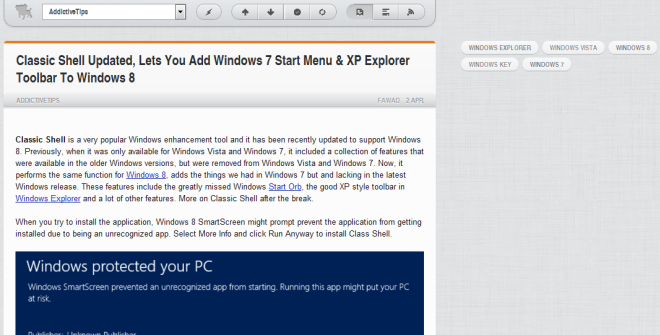 The web application can be fully customized from the Edit Subscription page. Here, you can Add a Subscription and Remove Stories about particular terms. You can also view your subscription on another device and share them with your friends.

Subpug is a free service that does not require any registration. It allows you to access content on other devices, and you can build your own theme-pack from scratch to view it in a beautiful, clutter free interface.