Surfon: Send/Sync Tabs Across Browsers & Computers [Browser Extension]
If you regularly switch computers or browsers, and don't want to lose your open tabs, then Surfon, a browser extension, can be the perfect solution for you. It lets users save tabs on one browser or computer, and access them from another. The extension uses the Surfon web service, and is available for major browsers such as, Chrome, Firefox and Safari. It can especially come in handy when you're short on time, and want to view webpages later, on a different computer or browser. Save pages by accessing the right-click context menu, or click the button in the toolbar to save multiple tabs. Once you've saved your tabs, open all of them in a different browser or computer with only a single click.
To start off, you'll have to sign up on Surfon. Once done, right-click on a webpage and select the Save Page to Surfon option. Alternatively, simply click the button in the toolbar to save multiple tabs and pages.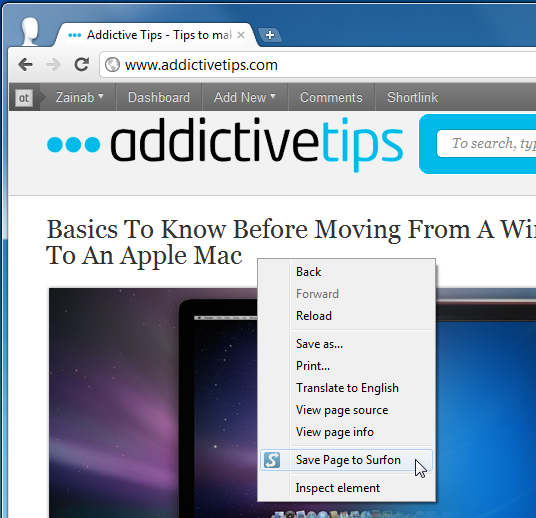 A Surfon button is added to the toolbar with three basic options, Save Page, Save Tabs and Load Tabs. The Load Tabs option allows you to open all your saved tabs with only a single click. To view the saved pages, click the Save Tabs option displayed at the bottom of the pop-up.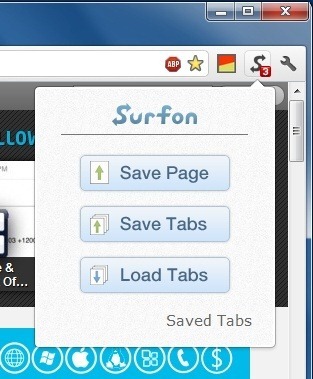 The service simply saves the URL of the webpages on the Surfon website, so you can reload them whenever you want.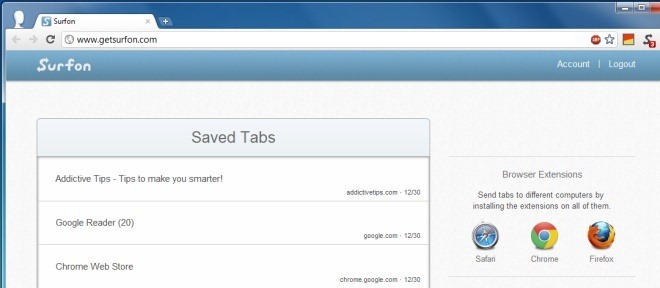 Surfon works on all major browsers, such as Chrome, Safari and Firefox. It provides a quick and easy solution for saving multiple tabs, and is a super time saver. Since we reviewed the Chrome version of the extension, the Chrome Web Store link is provided at the bottom. For other browsers, check out the official website of Surfon.
Install Surfon For Google Chrome