Tab Expose: Manage Open Tabs With Thumbnail Previews [Chrome]
Working with loads of tabs can not only be difficult, but it can also be quite confusing. Tab Expose, a Chrome extension, is for people who frequently work with a large number of tabs and find it difficult to manage them. The extension provides you with thumbnail previews of all your open tabs, and lets you quickly locate the tab you want to switch to. With it, you can also quickly close selected tabs. Moreover, the extension offers users with a (Ctrl+Shift+E) hotkey that allows you to quickly open the thumbnails in a new tab or pop-up. Two different themes can be applied to the pop-up or new tab, and the tab count can be enabled or disabled from the settings.
When you have a lot tabs open and can't find the right one, simply click the button in the toolbar to access a pop-up, with all the tabs thumbnail previews. The button also shows the count for all your open tabs. Two themes can be applied to the pop-up, Mac and Windows. You can either open the thumbnails preview in a pop-up or in a new tab. Select an option from the settings according to your preferences.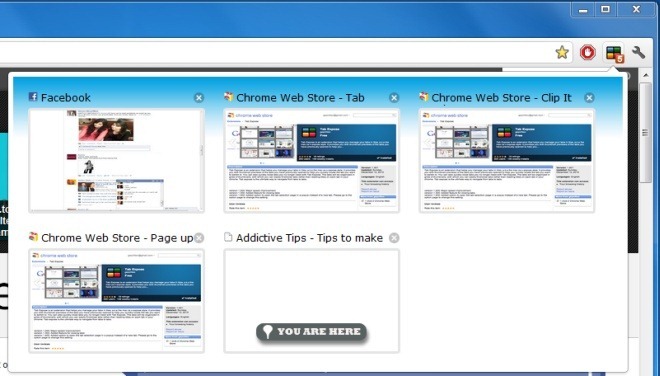 The Options for Tab Expose allow you to open the tab selection page either in a New Tab or a Popup. Also, select a theme and enable or disable the tab count in the toolbar. The hotkey can easily be customized by entering a new combination of keys.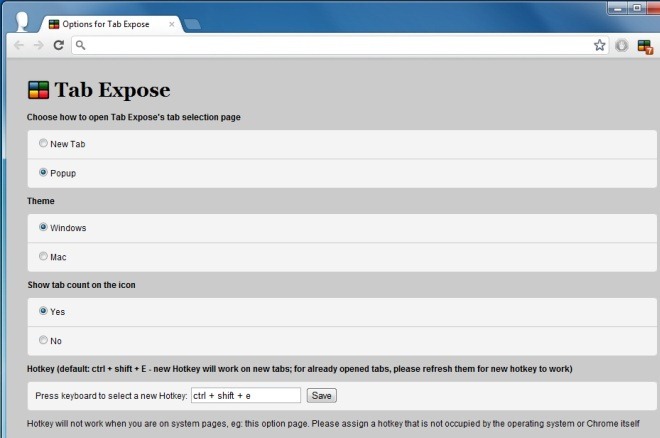 The extension works smoothly and allows users to save time while they work online. However, you should note that the hotkey won't work on Chrome system pages, such as the new tab page, the options page or the Chrome Web Store page due to security restrictions imposed by Google. It is a useful tool that can effectively manage all your open tabs. Visit the link below to install the extension.
Install Tab Expose For Google Chrome