Tab Menu: Close, Search & Reorder Multiple Tabs In Google Chrome
Working with multiple tabs can be quite confusing, mainly owing to the fact that as more and more links are opened, tabs shrink, and reading tab titles can become a difficult task. Users who have loads of tabs opened have to sift between multiple tabs in order to find right website, making the whole process rather annoying and time consuming. Tab Menu, a Chrome extension, solves this common problem by allowing you to select, close, rearrange and search tabs from a vertical pop-up menu. You can select tabs, close tabs, rearrange tabs and find tabs by entering the URL/tab titles in the search bar.
Whenever you find yourself lost in the large number of tabs open, simply click the Tab Menu button in the toolbar and access all your open tabs in a vertical pop-up menu. You can use this menu to change the order of tabs, close, search and select tabs. When you mouse over the tab titles, you will notice a (x) button to the right side of the title. Click this to close the tab, and simply click a title to open it. In addition to that, drag the tabs to change their order.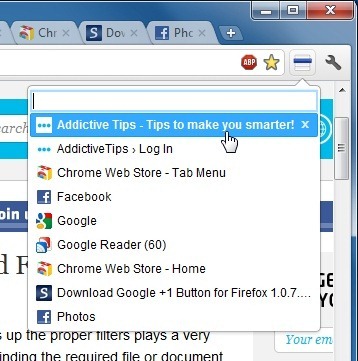 To search tabs, simply enter the tab title or URL in the search bar, and search results will instantly be displayed in the pop-up menu. The good thing about the extension is that it also indexes a website's favicon and it's fast. Most tab switching extensions are rather clunky when it comes to indexing favicons. It does not, however, allow you to switch between windows. If you're using Chrome on Windows 7, then that might not be such a problem but if you're on a Mac, then switching to a different window is a bit of a long process.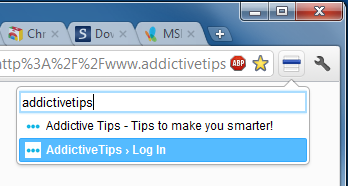 Tab Menu is a simple but useful extension for those who habitually work with multiple tabs. It provides faster management and access. You can install Tab Menu from the link below.
Install Tab Menu For Google Chrome