TheGOOD Uploadr: Upload Images To Flickr Sets & Photostream From Desktop
Flickr is one of the biggest sources of images online, rivaled only by Picasa. There are plenty of third party desktop applications that let you upload pictures to your Flickr account but there isn't an official desktop application from Flickr itself like there is for Picasa. TheGOOD Uploadr is another third party Adobe Air based application that allows you to upload pictures directly to your Flickr Stream or to one of the existing sets. The application lets you add a caption and description to all images, or to one image at a time. You can add tags and edit privacy settings for the image from within the application's interface, open them from their source (where they're saved on your system) and rotate them. It supports multiple accounts allowing you to easily switch between different Flickr accounts and upload images to either one.
The application has a drag & drop interface, but you can also use the old fashion file browser to upload images. The first time you use the application, you will have to authorize it to connect with your Flickr account. To add images, select them from their destination folder and drag & drop them on the application window. Alternatively, use the browse button below the Drag Images Here area to browse for images.
Once you've added all the images you want to upload, select them to add a caption and description. To add the same caption and description to all images, select all images and add a single caption and description in the right hand text area. Click Upload and wait for the images to upload. When typing in a description, the application will check it for spelling mistakes, right-click a misspelled word and choose the correct spelling from the context menu. You can add bold, italic, underline or cross-out attributes to the text. To add tags, click the Tags button below the description box and start adding them.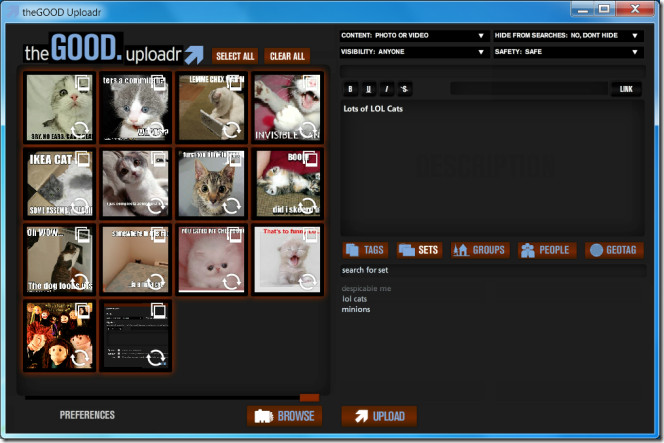 To upload images to an existing set, click the Sets button, the application will list all sets you've created. You can select any one or multiple sets and click the Upload button to upload the image to each of the selected sets.
To rotate an image click the rotate icon (two looped arrows), to view an image in the application, click the window like icon on the image. Bear in mind that the application is only for uploading images and not for downloading them from your account. You can only view and edit images that you upload, and that too only as long as you don't clear them all. Right-click an image to copy its title, the set(s) it's been added to and its privacy settings by choosing the option from the menu.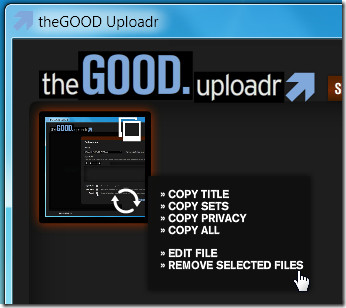 For each image you upload, you can select who can view the picture and whether or not it should appear in search.

To connect additional accounts and include EXIF data, click the Preferences button below the image drag & drop area. Click Add new user to add a new account. Once you've added more accounts, use the Profile dropdown menu to select which profile you want to upload images to. You can add a default signature that will be added with each image you upload. To include EXIF data check the Add EXIF box, to tweet the link of images as you upload them, check the Tweet box and authorize the app to connect with your Twitter account.
What's lacking in the application is the ability to create sets. If images are uploaded without selecting any sets, they appear in your stream as unsorted images.