Thinkbinder: Create Study Groups, Share Files & Collaborate In Real Time [Web]
ThinkBinder is a web application that aims to change the way you study with your friends by offering you a study group environment that is built around a set of useful tools designed to increase productivity. The service lets you have group discussions, share notes and provides you with real-time interactions. Creating a study group on Thinkbinder only takes a few seconds and all you have to do is create an account in a few easy steps or login via Facebook. Once you're logged in to the service you will be able to add members, upload files, create events and share ideas on a whiteboard. You can invite friends through e-mail or Facebook and once they are all in, you can collaborate with them through chat, private messages, and more. Moreover, you can share links, files and work on problems together through a whiteboard in real time.
The service comes with a slick interface and a set of tools that provide you with seamless communication and collaboration. You will find four basic tools, these are Feed, Calendar, Files and Whiteboard. With it, you will be able to view the latest activity carried out by you or your group members.You will also be able to switch between multiple groups and create new ones. Additionally, Thinkbinder allows you to send private messages to your study group.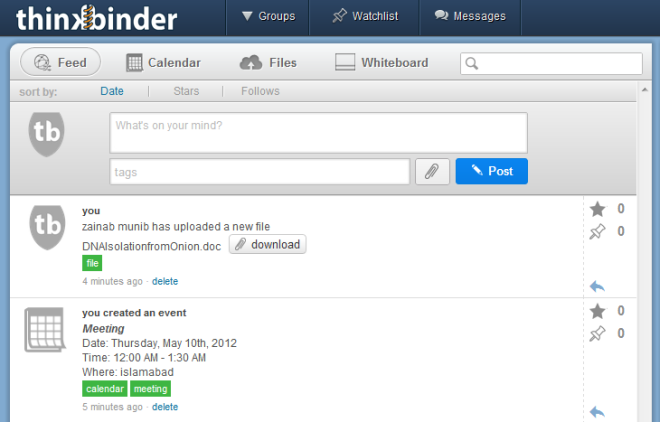 An interesting aspect of the extension is the Bind button, which is basically a shortcut for sharing. You can drag said button to your bookmarks bar, and hit it whenever you wish to share anything on the web with your group.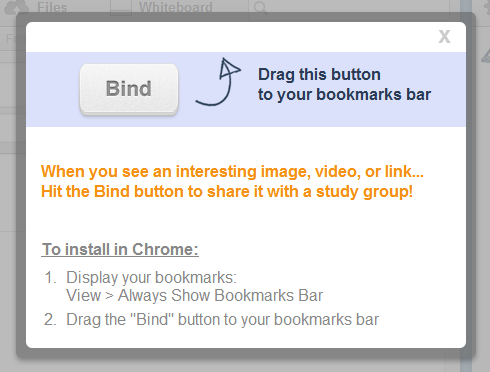 The Calendar section lets you manage events effectively and easily. To create an event, simply click Add an event and enter details such as Name, type, from-to time and location. You will also find email alert options in a drop-down menu.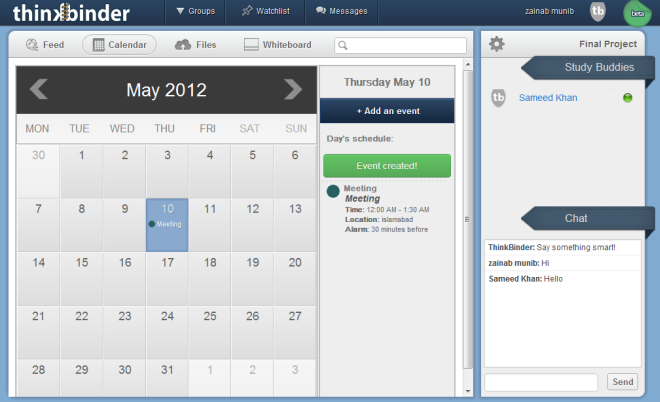 As mentioned before, the extension lets you upload files directly from your system to share them with other members of the group. Note that there is a file size limit of 3MB for all uploads.

Thinkbinder offers you with tools that are designed around seamless communication and collaboration. With it, you can ask questions, work through all kinds of problems and chat with your group members, all in one place. If you're a student and find yourself to be more productive while studying in a group, you needn't travel to a friend's place to study with him or her as long as you and your friends have Thinkbinder.