Thumba Is Awesome Silverlight Based Image Editor
We have, over the period of time, covered quite a few image editing software, with some great names like Imagina and Hornil StylePix. Then there are fans out there of the famous GIMP and IrfanView, which are again, great at what they do. However, what if you want to do some more-than-basic editing on some images (well, more than what MS Pain can handle), and do not have your software of choice at hand? How does the idea of a full-featured, web-based image editor sound to you? Fascinating, right? We thought so too, and took this remarkable web application for a spin. Read our opinion just past the fold.
Thumba is the first web application that we have come across, which utilizes Microsoft's Silverlight technology, this service transforms your browser into a complete image editing tool, with the added ability to install as desktop application as well.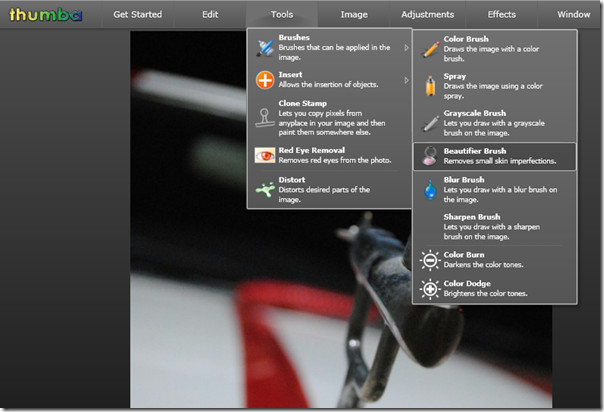 To begin, you need to have Silverlight installed and your image editor is ready to serve you. You get a row of menus and a blank screen against a black background. Get Started will let you initiate by creating a new image, loading one from your computer, or using webcam to capture a fresh one. You may also print, reload or save the image.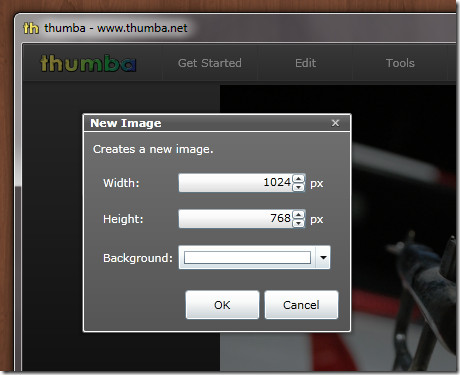 With your image loaded, the options are quite a few. The Tools menu will bring various brushes, lets you insert objects, use clone stamps etc, as can be seen in the first screenshot. Next up is the Image menu, which will let you analyze, resize, morph, crop. rotate, flip and mirror the image.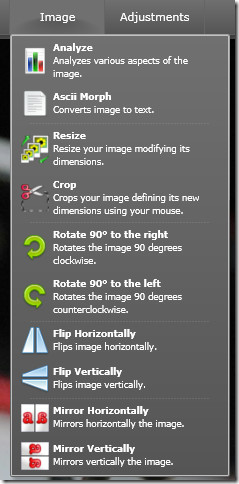 Beyond Image menu, you get Adjustments, where images can be auto-corrected, and tweaks can be done with brightness, contrast, hue, saturation, gamma, color balance etc. You can also apply tint and filters, convert to grayscale, or multiply the percentage values of an image, to name a few.

The Effects menu lets you play with effects like blurring, sharpening, distortion, stylization etc. Quite a few options are available here as well.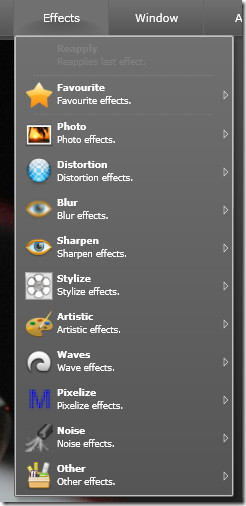 Finally, under Window menu, there are zoom options, full screen view, language change and the ability to install Thumba as a desktop application (offline image editor).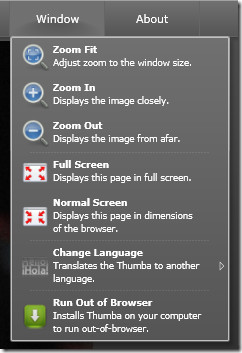 Thumba is a great online image editor that delivers quality service, with just the need for Silverlight. It is highly recommended as service when you need to edit some images on the fly and don't want to bother with a lot of menus and options.