TicknTalk Finds Latest Trends And Hottest Links From Twitter In Your Browser Sidebar
Twitter is one of the best information sharing portals, there is no argument to that. It is the platform that actually brought the concept of micro-blogging into the mainframe. It is also one of the best means to promote your website and to find out about other trends, what people like and dislike. Independent Twitter applications like TweetDeck, Seesmic Desktop, and various others have also made Twitter indispensible to those seeking new information.
TicknTalk is a browser sidebar companion currently for Firefox and Internet Explorer only. It uses your Twitter account to bring the latest and hottest links right to your browser, including useful information about the website that you're browsing. You can discover the most popular links within a website, and make your own contribution by 'ticking' anything that you deem share-worthy. You can observe trends on Twitter relating to a particular page or in general, and also find people with similar browsing habits and interests as yourself.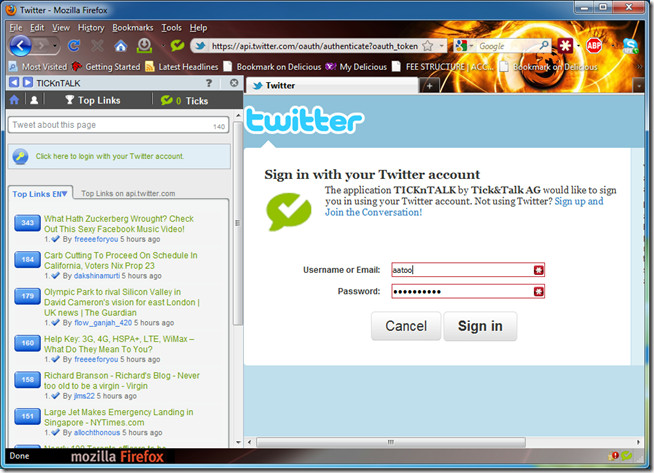 When the add-on is installed, you'll need to login with your Twitter account for a personalized experience. The sidebar on default view displays Top links, which you can customize on the basis of language preference. These are the links that have been tweeted about the most, and hence become popular.
Once you've logged in, you get your own timeline underneath the top links box. You can customize timeline view into all your tweets, direct messages, mentions, and so on.
Whatever page you're browsing, you can view its Twitter stats through the 'Top Links on….' box. As you can see the screenshot below shows top links for AddictiveTips. You can also tick a page that you like through the Tweet about this page box.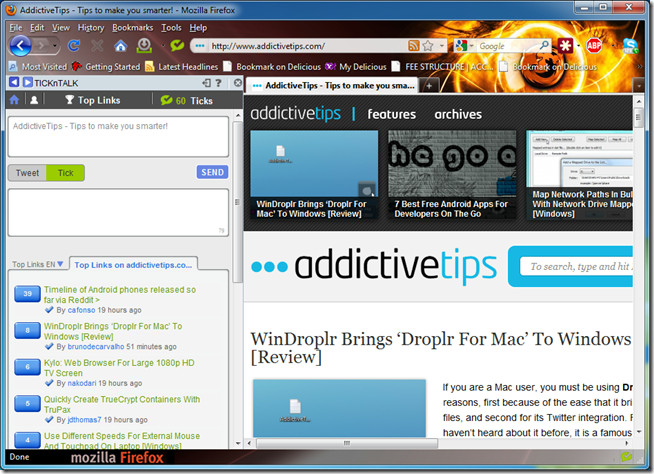 If you click on the green button that shows the number of ticks about a page, you can actually see what those ticks say, as shown in the screenshot below. You can also see your own profile next to the home button on top.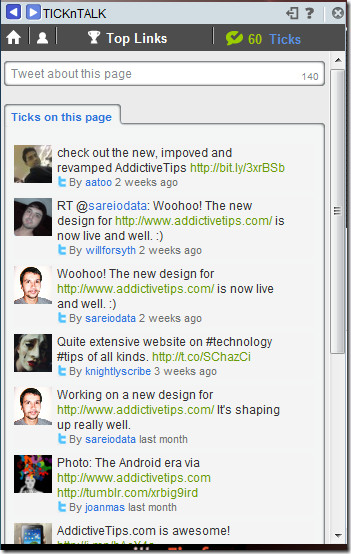 TicknTalk is a useful add-on for Firefox and Internet Explorer, and serves to further elaborate Twitter's power as an information sharing medium. It is under development for Google Chrome and Safari as well. Our testing was done with Firefox 3.6.11