TidyRead: Distraction Free Reading With Custom Layout & Style [Chrome]
Quite often, while reading online articles, we lose focus and get distracted with additional content, such as popups, advertisement and images. TidyRead, a Chrome extension, can be of great help, as it basically reduces web pages to their textual content. It renders web pages with better readability by accurately extracting the right content, and removing the extra clutter. With this extension, you can focus on the actual content and avoid getting distracted over and over. In TidyRead mode, you can customize the styles, font size and width of webpages. The customizations you make are saved, so even when you visit the website later, you can view it in the same manner. TidyRead strips extra items from websites, and leaves you with some nicely formatted text to read.
Access the different options by clicking the button in the toolbar. You can Open TidyRead for webpages, opt-out pages and websites. Also, access the Options and disable the extension from this pop-up menu.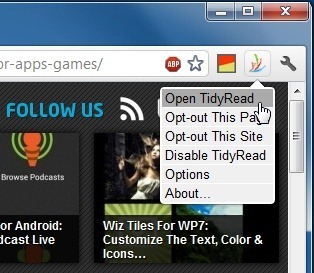 TidyRead keeps the original article layout, and intelligently removes unnecessary items, such as ads and banners from the website. When you enable TidyRead on a webpage, a toolbar is added to the top of the webpage. This toolbar offers users with a number of different options that can be used to change the layout of the page. You can change the background color and the font size. Furthermore,  you can change the width of the page and click the More option to select different font styles.

Readability becomes a serious issue when websites are cluttered with a large amounts of annoying content. TidyRead is a handy extension that allows you to concentrate on your reading, and gives you a clutter free interface for any website you visit. It enhances online readability and can be found at the link below.
Install TidyRead For Google Chrome