Track What You Have Loaned Or Borrowed With I.O.U Mate
How often do you borrow or lend money? How about power tools? A lawn mower? As part of daily life, everyone occasionally borrows one thing or the other from a friend or a neighbor. Keeping track of all your debts and allowances can be difficult at times, especially if you and your friends constantly loan money back and forth and at the end of the week (or month) no one has a clue how much money they owe. I.O.U. Mate is a web service that makes it easy (and fun) to track little routine debts whether they're monetary ($$) or non-monetary (lunch, gardening rake or a cup of sugar).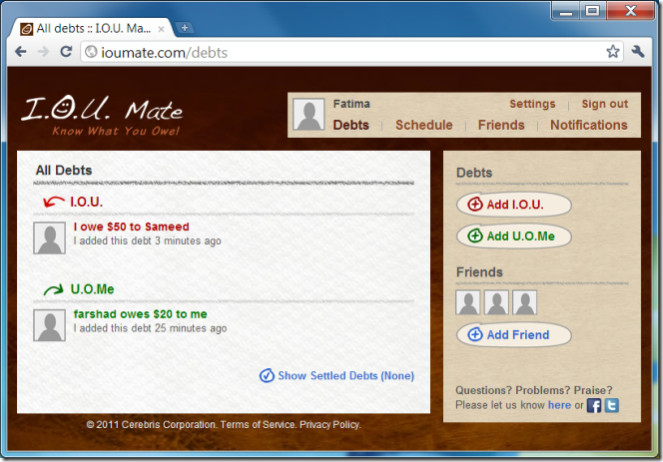 I.O.U. Mate is simple but ingenious; you can keep track of how much money you owe someone or how much is owed to you. All entries are recorded as either 'I.O.U' (what or how much you owe someone) and 'U.O.Me' (what or how much someone owes you). The service can tell when you've entered money and when you've entered something else. For monetary debts, you can either settle a debt or borrow/ loan more money; the amount is automatically added to the total.
You can invite your friends to I.O.U Mate and track debt together. Whenever you settle a debt, your friend is notified. Adding I.O.Us doesn't mandate that your friends have an I.O.U. Mate account, you can go solo and add any and all kinds of debts. The web service doesn't just act as a board for recording all your debts, it can also find the final amount you owe or your friend owes if the two of you constantly loan money back and forth. If you borrowed $20 from a friend at the start of the month but later he borrowed $30, you I.O.U of @20 will change into a U.O.Me of $10.  This doesn't work for non-monetary loans; the baseball bat you borrowed from your friend will not be offset with the tennis racket you lent him.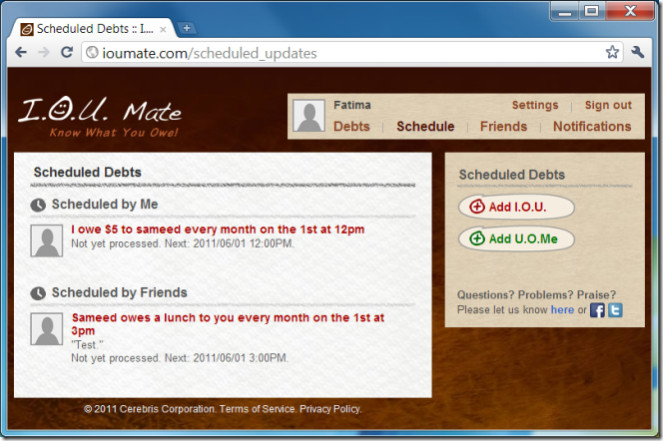 In addition to recording your daily lending and barrowing, you can also use it to record and keep track of  periodic payments. This could be remembering to pay for parking space, your son's allowance, the cable guy or the weekly lunch you owe your friend because you lost the wizards are cooler than pirates bet. It can also be used for bigger more important things like remembering the car payments, buying groceries for mom and paying your gym membership.
I.O.U. mate doesn't have an app for mobile devices but the site has an excellent mobile interface, you literally get every feature on your device the same as you would on your desktop. You can also sync your account with Facebook and Twitter and post debts to your wall. The best thing about the service (other than the great design and flow) is that it can help you remember your daily debts without giving you a hundred or so additional features that come with more complex reminder services or apps; it's a simple solution to a common need.