Transfer Large Files Temporarily With WeTransfer
In the presence of file sharing giants like RapidShare, MegaUpload, MediaFire, etc, and services like DropBox and SugarSync, it's hard to fathom any newcomer making its mark. Yet it's ever harder not to notice WeTransfer. Offering file sharing of up to 2GB sizes, this service excels at where others lack. Add a touch of art and WeTransfer is the result.
The first thing that will catch your attention is the beauty and aesthetics behind this service. It presents itself as the webpage, with no installation of any sort required. The uploader is Java based and works smoothly, with the backgrounds changing regularly, displaying beautiful wallpapers.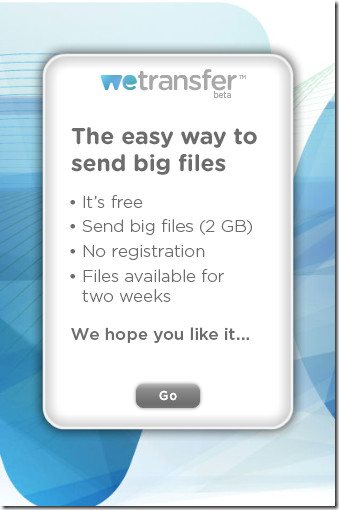 To begin with, click Go. Next step will require you to add the file, specify the recipient's and your email, as well as add an optional message.
Click transfer and the upload process would start. The recipient would receive in email a link to download the file. You can add multiple files until 2GB is utilized, and you may specify multiple recipient email addresses separated by emails.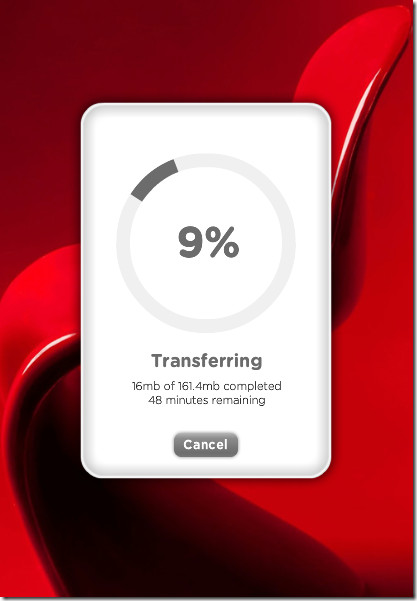 WeTransfer is a free service which works without any registration of signups. It can be really helpful if you want to share large files, especially since the popular ones impose rather small file size limits in their popular versions. The files can be shared with upto 20 people, the only limitation is that it holds the uploaded file for 2 weeks (14 days) only. Which makes this app only useful for temporary sharing.