Trim Extra Firefox Right-Click Context Menu Options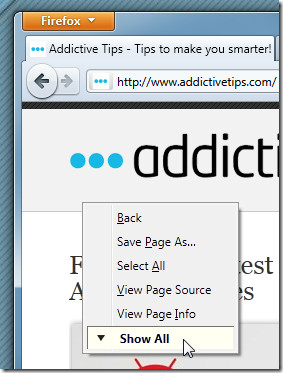 Add-ons and those applications which directly integrate with Firefox are the main culprits behind making Firefox context menu frustratingly long. If you're looking for a way to remove extra right-click context menu options from Firefox without disabling or removing the add-ons, check out FfChrome . It is a small extension for Firefox which auto-hides extra context menu options and shows only basic ones, such as, Select all, Save Page As,  Copy text/image, Paste text/image, etc. FfChrome adds Show All option in right-click menu which wraps up all the extra add-ons context menu options. You just need to hover over Show All option present at the bottom of trimmed context menu to reveal full right-click context-menu option.
You can change the Show All option preferences to bring all the frequently used context menu options in stripped-down context menu. For instance, if you access LastPass context menu options regularly, you can add an exception for LastPass from Preferences. Just move to Extension Manager, click FfChrome Options, search for LastPass and enable it to reveal it in trimmed-down context menu. Here, you can also change the full context menu expand time rate.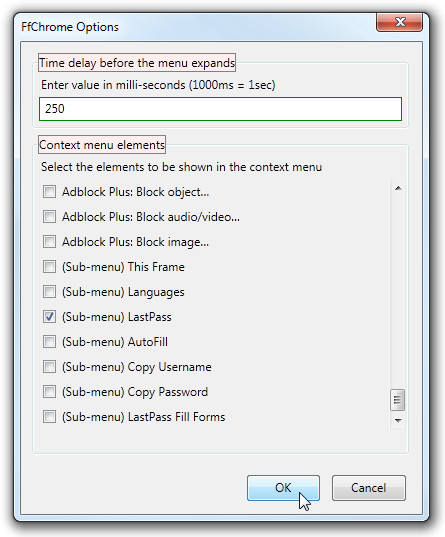 It works on Firefox 3.0 – 4.0.*
Install FfChrome extension for Firefox