TwentyTen – Beautiful Office 2010 Theme For Firefox
Having covered hundreds of Office tips, it excites us to see a beautiful Office 2010 theme for Firefox browser. TwentyTen is a slick eye-candy theme developed by BoneyardBrew of DeviantArt. There are many Firefox users who are fascinated by the look of Office 2010 and have gotten used to it, so it is no surprise that this theme is equally appealing.
The tabs, address bar, navigation bar and file menu all give a look similar to that of Office 2010 User Interface. The buttons of various extensions next to the address bar, as well as, icons in the status bar also get an overhauled look to match that of Office 2010 apps. If you love the newly designed user interface of Office 2010, then you are definitely going to love this theme. Have a look at the theme in the screenshot below.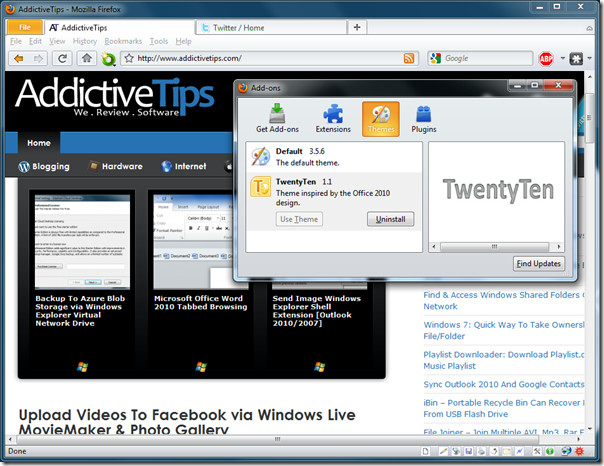 The theme's color scheme, graphics, and other designs look exactly like Office 2010's UI and comes complete with Aero Glass effects. There are no direct settings to change the color but you can apply a custom color template and also remove tab bar glow using the code provided by the developer. The new version of the theme comes with fixed Preferences window and correct app button spacing to match that of Office 2010. If you want to use this theme, it is recommended to install Josh's addon and LeftSideStar so that it looks best.
According to our recent testing on July 16, 2012, the addon does not work on the latest version of Firefox 13.
Install TwentyTen Firefox Theme