View Time For Any City & Probable Activity At That Time [Chrome]
Time zone converter lets you find out the current time for different cities across the world in a unique and interesting way. This handy chrome extension is customizable and you can add as many countries as you like. To add a time zone , simply enter the City name along with the Country name and hit Enter. As you do this, the country and city will instantly be added to the pop-up list, and will always be displayed. For instance, if you add San Francisco as a city and United States as a country, the time and the activity (is at office, is sleeping etc) for the city will be displayed in the pop-up. Google can also be used for the same purpose, but if you're short on time and frequently have to view different time zones, then Time zone converter provides you with a more simple way.
After installing the extension, simply click the button in the toolbar to view the list of cities and their times. In addition to that, you can add as many destinations as you want by entering the city & country name and hitting Enter to add it to the list. The extension will instantly calculate the time according to the remote location, and also offers you with two up and down buttons that let you increase or decrease the time by one hour. As you do this, the time for the entire list of cities changes accordingly.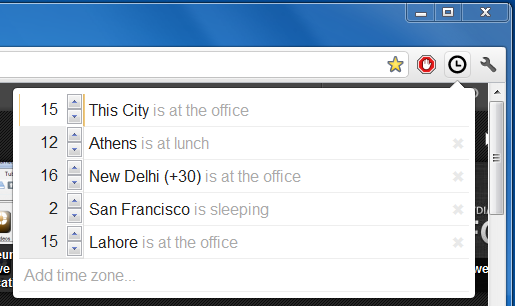 The extension displays time in 24 hour format, and gives generic descriptions for each remote location, indicating what people over there might be doing at that time. You can always guess what a person in a different country might be doing, e.g., sleeping, having lunch or having dinner. During our testing, the extension did not automatically detect Daylight Savings for some destinations, but overall, it displays accurate results for majority of the cities.
Install Time zone converter For Google Chrome