Watch Channels From All Over The World With TV for Google Chrome
Want to watch TV on your computer and surf the web at the same time? TV For Google Chrome is a handy Google Chrome extension that lets you stream online TV channels directly from the browser. It provides TV channels from all over the world, and allows you to choose genres ranging from business, religious, educational, sports, music, news, movies, lifestyle, entertainment and more. Moreover, the channels are updated regularly and are sorted by, Countries and Categories (genres). All you need is to select the country, and then select the TV channel. It will open a separate window, and start streaming the TV channel right away.
Once you've installed the extension, click the button in the toolbar to open a compact pop-up with a list of TV channels sorted by Countries and Categories. You will find almost every country in the list, however, some stations from specific countries might not be available. Click a country to view its channels or simply click a category, and then select a channel. Categories include, News, Music, Sports, Lifestyle, Movies, Business, Kids, Religious, Shopping and more.
Clicking the channel from the list immediately starts finding the stream. You might have to wait for a few seconds for the video to buffer. You can switch to full-screen mode by double-clicking the video. It must be noted that the extension requires Windows Media Player plugin. If you haven't installed it in your browser, you can add it to extension list by clicking the provided link.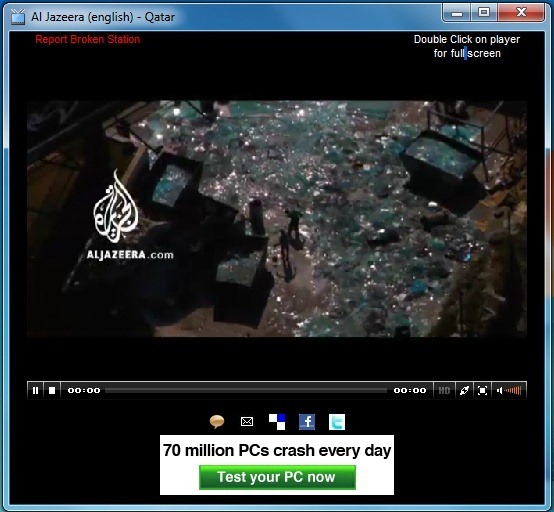 The extension works smoothly for most of the videos, but you might find some channels with technical faults, and others that don't respond well or have ads. The extension shows you live streams mostly and obviously isn't going to replace your cable, Netflix or Hulu subscription. It is, however, a good source for quickly finding regional news sources. Not every country's channel makes it your cable subscription so this is a fairly good alternative. The extension is still limited though and not all channels from a particular country will be listed. It isn't clear how it searches for these channels and why some of them can't be found. The extension's own interface could do with a better design and perhaps a way to switch between channels from the media player though this might be subject to technical constraints. Overall, it's worth a try and you might find it useful when looking for odd or region specific news.