Watch Record Breaking Videos With Guinness' Official Chrome App
Guinness World Records is one of the most-watched TV programs across the world. It features a vast range of record breaking videos that are full of excitement and entertainment. These videos keep audiences thrilled and glued to their seats for ages, and if you want to share the thrill, then you can access all these videos at the Guinness World Records – Record Player Chrome app. This app lets you watch videos from different categories and share them to your social networks such as Facebook and Twitter.
Once you have installed this app in Google Chrome, you can browse through the videos using four options, including All videos, Most Recent, Most Viewed and Categories. With the search or advanced search option at the bottom of the page, you can also look up videos based on specific title, year or month.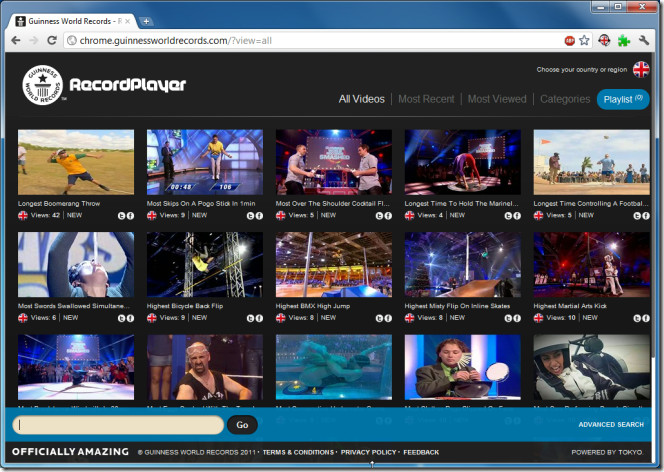 Clicking the Categories options opens a panel with different videos related to Food & Drink, On Wheels, Sports and others, to name a few.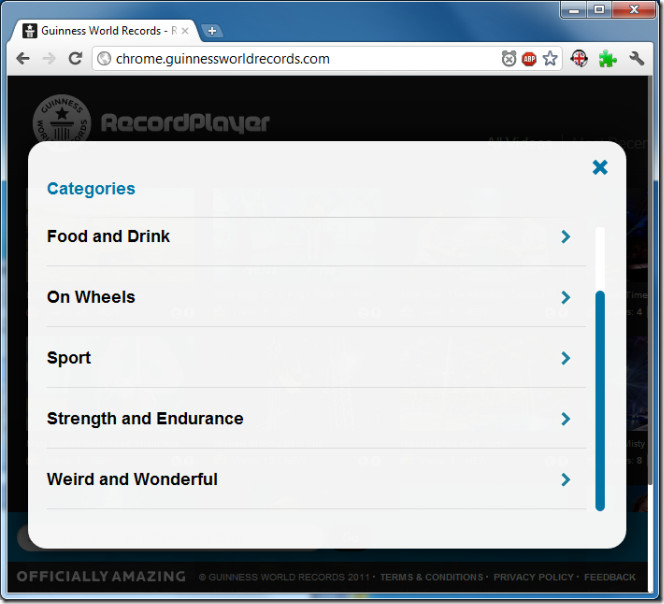 When a video is selected to be played, the background dims and the video player is displayed. The playback window provides two options; you can either add the video to your playlist or share it to Facebook or Twitter.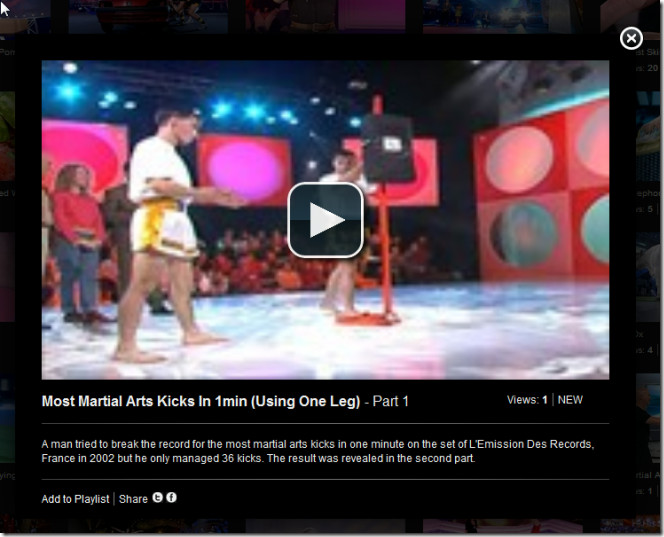 The Chrome app uses your location to show you the most relevant videos. If you choose to restrict it from using your current location, you can manually change it by clicking the little flag button in the top right corner. Be warned that the choices are very limited. The default location appears to be set for England.
In addition to viewing videos, the app also lets you share them on Twitter or Facebook. It also has a built-in playlist feature that allows you to add videos you might want to see later. The only flaw with the playlist feature is that it adds everything to the same list. The app should add the choice to, at the very least, sort videos in the playlist by category. The database is somewhat limited but it is nevertheless a great and harmless way to entertain yourself at home. (Warning: do not try anything you see in the videos at home, your neighbors will complain).
Guinness World Records – Record Player is the organization's official Chrome app, and can be highly addictive (much like AddictiveTips) once you get immersed in the wonders it shows. It can be grabbed from the Chrome Web Store link provided below.
Install Guinness World Records – Record Player For Chrome