What's Up! for Facebook – Desktop Alerts Of Facebook Activity [Chrome]
Facebook addictions vary from mild to serious; you might login and spend a couple of hours on it or you might stay logged in all day and check it as frequently as your email. For whatever kind of addictions you might have, it must cut in to your productivity to have to check back for new notifications. What's Up! for Facebook is a Chrome extension that gives you desktop alerts of your Facebook activity.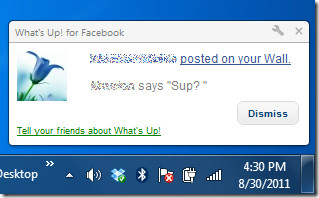 The extension adds an unnecessary and pointless icon with a W on it next to the URL bar. You can choose to hide it altogether and save yourself some space. Needless to say, you must be signed in to Facebook for the extension to work. The extension does not sign you in to Facebook nor does it create any other sort of connection to the site. It relies on you having an active session for it to work i.e. you must be signed in to Facebook. You don't need to have it open in a tab, but signing in once is required.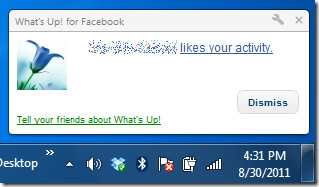 The extension notifies you if someone posts to your wall, comments on a post, sends you a friend request or likes something you shared. In addition to being an easy way to monitor Facebook activity while browsing, it's also a good way to use Facebook at work.
Install What's Up! for Facebook Extension For Chrome