Yoono: Combine Twitter, Facebook, YouTube & Other Feeds [Firefox]
Yoono, a Firefox add-on, allows you to access all your social networks in one place. Yoono is a compact but powerful sidebar for Firefox that helps you stay connected with all your social networks, such as, Facebook, Twitter, LinkedIn, MySpace, YouTube, Foursqaure, Flickr, Yammer, AIM, Yahoo IM and more. Sharing stuff on multiple networks is dead simple with Yoono. You can share links, images and videos across all your networks simultaneously. Furthermore, update your status across all your social networks at the same time. Yoono also provides you with multiple IM services, is uncluttered, and organizes feeds in a neat manner.
Facebook, Twitter, LinkedIn, MySpace, YouTube, Flickr, Foursqaure, Yammer, FriendFeed, AIM, Yahoo Messenger and Google Talk are all supported by Yoono. To start off, connect all your social networks and IM services with Yoono. Currently, some IM services are in beta, so you might face some connection issues with them.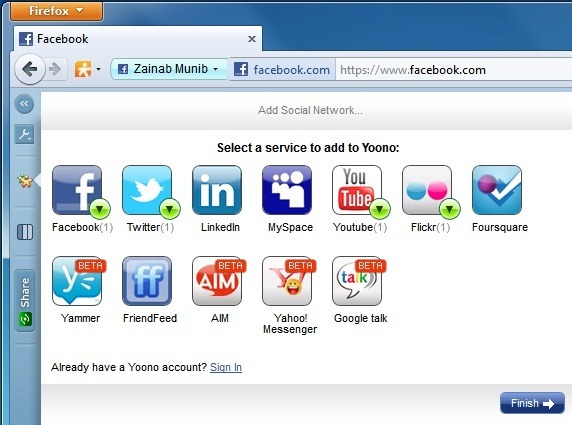 The all view allows you to see all updates and information in a single stream, which is displayed in the sidebar. In addition to that, you can also select an individual network by clicking its icon, thus viewing updates exclusively from that service.
Yoono lets you update your status across all services at once. Click all networks, type your status and select the services on which you want to share your status update.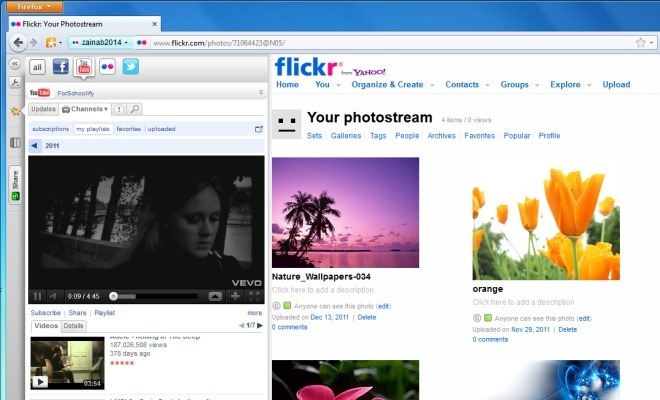 The add-on also allows you to easily share links, images, videos and entire pages with all of your social networks. To share something, click the share icon, and a green colored share bar will appear at the top of the page. Select different content to share from a page that you're viewing, and click Selected items. The link to the shared item will be added to your status update bar, where you can simply select the target services and hit Share.

Updates and information from you social networks can be either viewed in a single column, or multiple columns. To toggle between these views, click the column icon, and add a column by selecting a view for All or selected social networks.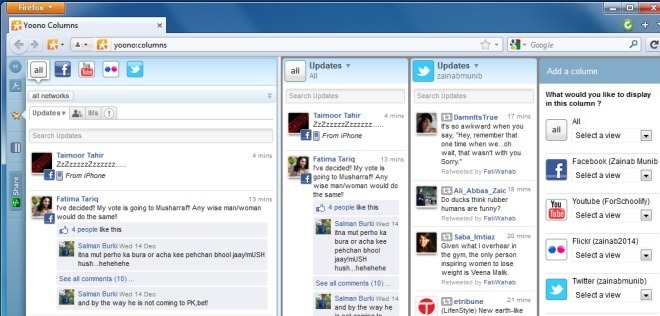 The Yoono Options easily let you to customize Yoono, where you can mark all items as read for all services, add a social network or a widget. Furthermore, you may minimize the sidebar and change its color.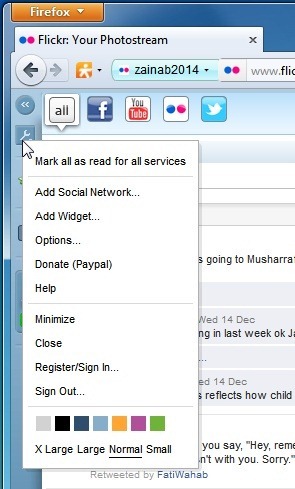 Click Options from the tools menu to customize Yoono according to your preferences. Enable All sounds and Enable Profile Selector from the Global settings. In addition that, enable counters for messages that are directed to you, and manage pop-up alerts. You can also add other upload services, adjust column width and other actions.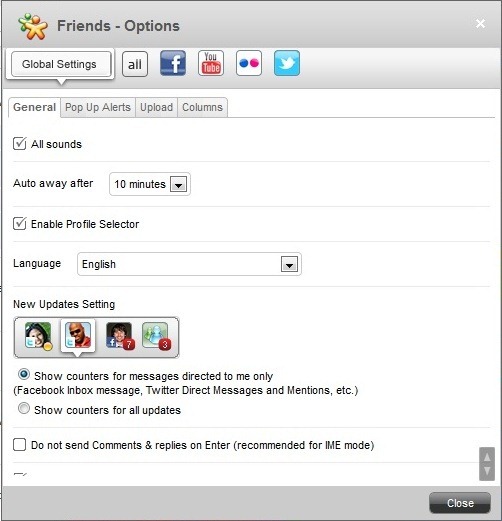 Yoono is also available for desktop (Windows, Mac OS X, Linux), iPhone and Chrome browser, details of which are available on the official website. This add-on is a must have for people who use multiple social networks. You can grab it from the link given below.
Install Yoono Add-on For Firefox