Zwiggo: A Collaboration Platform That Allows Easy Sharing [Web]
Want to collaborate with your friends, or want their opinion about a specific topic? Brand new Zwiggo, a web app, is an online sharing and collaborating platform that makes sharing all kinds of content extremely easy. It only requires a quick and easy sign up and is completely free. Just add a space, give it a name and invite friends to your space. Furthermore, you can make the space visible to public or only to some members. Apps are added to each space based on the functionality users want, such as an app for images will be added if your space is all about photo sharing. You can also use Zwiggo to plan trips, and ask for opinions on books and other topics. It has a whole lot to offer, and provides users with a very interactive experience.
Zwiggo provides users with a lot of flexibility, unlike other services that only allow you to share photos, posts and chat. You can create as many spaces as you like, and interact with your friends and public. Thumbnails of spaces are displayed on the main page. One important feature of Zwiggo is the ability to make spaces public, so you can invite others to participate, and if you want privacy, you can easily change Space Settings using the tiny little icon on the top right corner of each thumbnail.
Give each space a name, add description and select to show Newsfeed. Members or Everyone can view your space, depending on what you select from the drop down list. Invitations can be sent by all members or by the creator of the space, which can also be set depending on your preferences. Furthermore, you will be able to view all installed applications and members for each space and delete members .
There are apps for chatting, sharing photos, files, links, books, planning events, having discussions, finding locations and much more. You can add single or multiple apps to a space depending on the functionality of each space.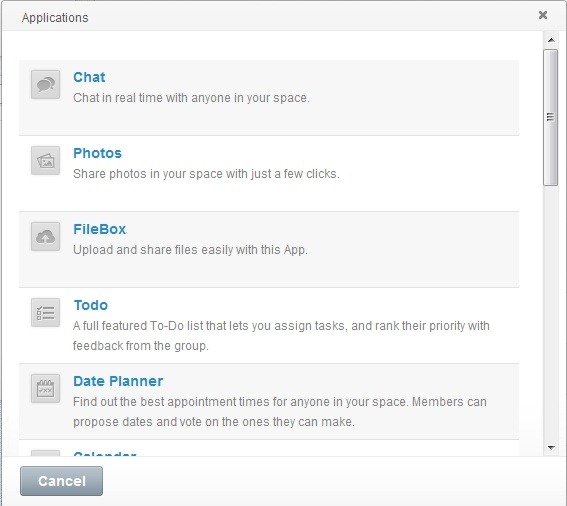 Zwiggo is a a very handy collaboration tool with a simple interface that is attractive to both newly set up businesses and individuals alike. Try it out at the link below.