Runtastic Altimeter Pro: Find Your Altitude, Weather Info & GPS Bearings [iPhone]
For anyone who's a sports and fitness enthusiast, and a smartphone user at the same time, runtastic can't be an unfamiliar name. The company prides itself for creating numerous fitness apps catering to a multitude of smartphone platforms, including iPhone, Android, Blackberry, Windows Phone 7 and Bada OS. What makes runtastic apps stand out above their competitors, is their finesse and usability, not to mention reliable reporting. We even reviewed Runtastic Pro back when it went free in January, and have kept a keen eye out for any similar deals. Well, thankfully, we're in luck, for Runtastic Altimeter Pro for iPhone, iPod touch and iPad just went free in the iTunes App Store, and we'll explore what the app is all about just next.
Runtastic Altimeter Pro, as the name implies, is an altimeter that makes use of the sensors in your iDevice to provide you accurate altitude readings, no matter where you are. Some other useful data, like sunrise/sunset predictions, latitude and longitude readings etc, is also presented. Naturally, it's an outdoorsy function, and not one you'd find much use for in, say, your house. Using the altimeter is a no-nonsense, no setup affair, and should work right out of the box, with minimalist settings to play around with. On first launch, the app will require permissions to use location services on your iPhone, after which you're taken straight to the solitary readings interface.
Despite the minimalist interface, Runtastic Altimeter Pro packs quite a punch when it comes to the information that it delivers. Alongside the altitude reading, you get current temperature and wind speed at your location, the direction you're facing (compass bearings), projected sunrise and sunset timings (quite accurate, in our experience), and your current GPS coordinates. It lacks clarity as to where the app fetches all the data from, since we can understand that GPS coordinates and compass bearings are served right from your iPhone's own sensors, but for others, Altimeter relies on online services. Altitude readings, too, are generated based on the GPS chip within the device itself, but also takes support from the web, since internal readings can be incorrect (or so runtastic claims). Indeed, we noticed quite some difference in our altitude when Elevation Correction was turned off.
Tapping the cogwheel in upper right corner pulls up the settings screen, where you can switch the unit of elevation between feet and meters, toggle temperature readings between Celsius and Fahrenheit, and choose to watermark photos. What photos, you may now ask? Well, since it's an app primarily aimed at outdoor usage, you may want to show the world where you got the highest altitude. Altimeter Pro doesn't just let you find your elevation – you may also share it over email or Facebook, along with a photo of wherever you are!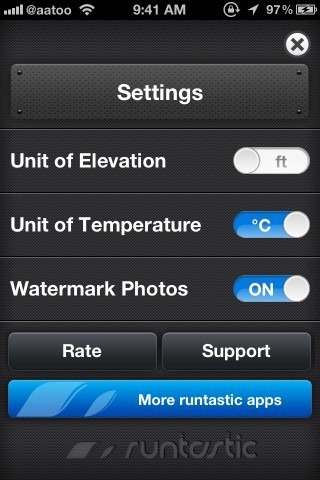 To snap a picture, hit the camera button at the bottom right corner of the main interface. It should be noted that you cannot use any image from within your Photo Library, and the only option is a fresh capture. The image taken will plaster itself next to the altitude reading, and this is where the watermark will take effect if you've turned it on (see screenshot below). Should you choose to share it over your social network, your friends will also get to see where you were when you got these readings.
Runtastic Altimeter Pro is a neat app that, akin to almost all runtastic apps, adheres closely to the company's attention to fine quality and usability. While not your casual fun utility, it's darn useful if you're a rock-climbing/hiking buff, and prefer to have all your tools contained within your pocketable iPhone. The app retails for $1.99, but went free for a limited time, so grab it today while the offer lasts. It works with iPhone 3GS (iPod touch 3rd Gen) and above, and requires iOS 4.0 or later.
Download runtastic Altimeter Pro for iPhone/iPad