Browse & Watch Free Online TV Channels On iPhone With Universal TV
There are already a number of TV streaming services that offer iOS clients of their own. Just.tv, Ustream and even relatively newer names like Vinson have a presence on the iPhone. You can also enjoy YouTube's live channels on your smartphone but despite all these choices, one might argue that there is still room for an app that doesn't make it overly complicated for users to find a channel. Universal TV is a Cydia app but while using it, you might easily forget that you didn't download it from the App Store. The interface of Universal TV is pretty neat, and it supports gestures to let users easily switch between channels. The search feature is quite comprehensive as well, and can be used to browse through channels from different regions and categories.
By default, Universal TV shows the 'Popular' category on the main screen. The legend in the bottom-left corner of the channel's preview specifies whether the stream is in standard definition or high definition. If you have a slow internet connection, Universal TV is smart enough to reduce the video quality automatically to ensure smooth playback.
From the app's sidebar, users can search for a particular keyword or channels from a region. For location-oriented search, simply type a country's name in the bar at the top of the menu. To browse through different categories, just scroll down the menu. The available categories include science, sports, economy, entertainment, recent, etc.
To view a channel, just tap its preview once. This brings up a list of options that can be used to play the stream, share its link, or add it to your favorites. If you want to help other users of Universal TV, leave a rating for channels.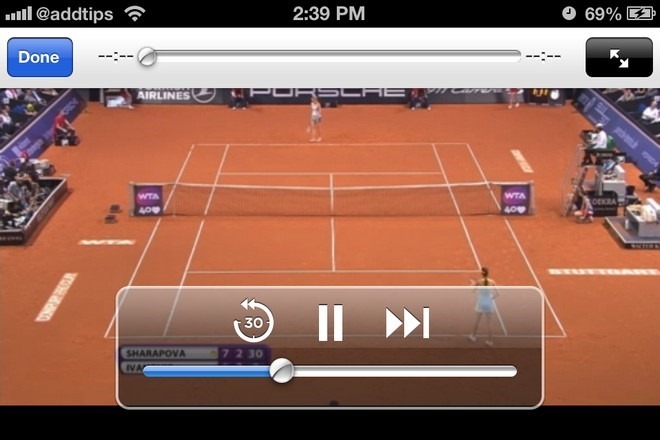 In addition to being smart enough to control the stream quality, the video player in the app also supports gestures. You can swipe across the screen to go to the next or previous channels in your current category. The video can also be viewed in expanded screen mode using the arrow icon located in the top-right corner.
According to the developer page of Universal TV, all the channels that appear in the app are gathered by legal means, as the app only handles free streams. Even then if there is a content-related or copyright issue with a channel, you can file a complaint and get the channel taken down.
Universal TV is a completely free app, and you don't need to subscribe to any channel for viewing it either. If you have access to the Cydia store, give the app a go by heading to the ModMyi repo.