How To Check-In For Friends On Foursquare & Allow Them To Check You In
In every group of friends, there is always that one person who is really into using a lot of social networks, and can be counted on for updating their status or checking-in whenever you go out. While broadcasting that you had a good time at a café on Facebook or Twitter is solely for bragging purposes, Foursquare is a bit different;  the popular location-based service and others like it have been designed to let users help their friends in real life, by providing tips related to different places. Apart from that, Foursquare makes the whole experience fairly competitive too, by giving badges and making people mayors of different places based on their check-ins. Foursquare has a lot of casual users who only perform check-ins at infrequent intervals. Thanks to the app's latest update though, the chances of your forgetting to check-in to a place have diminished a great deal, because now even your friends can perform check-ins on your behalf.
Foursquare has allowed its users to mention their friends in check-ins for a long time, so the company didn't need to add a whole new option to enable this latest feature of the service. The only difference the update makes is to translate these mentions into check-ins for your friends, but in a manner that doesn't compromise your privacy if you don't want your friends to check you in. Here is how Foursquare check-ins by friends can be enabled.
Head to the app's Settings menu, and enable the 'Check-ins By Friends' option.
An alternative way of doing this is via the 'Save time by letting friends check you in' option located under privacy settings.
Based on your choice, your friends can automatically check you in (although you retain the option to delete the said check-in at any time in the future), or Foursquare can send you a notification asking for your permission to allow the check-in. Once you allow a check-in to go ahead though, the feature becomes enabled till you manually turn it off.
Check-ins performed by others on your behalf have a line of text below them, stating the name of the person who added the check-in.
To create a check-in, just use the 'I'm With' option. In case your friend doesn't approve the request as a check-in, it will appear as a mention just the way things were before.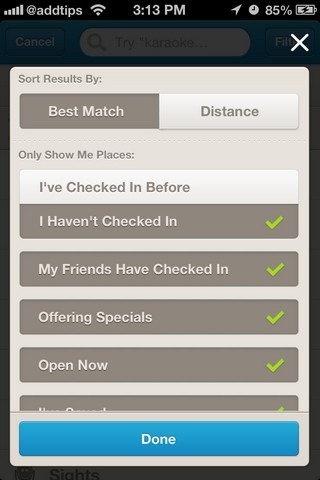 While that's pretty much it for the check-in related improvements in the update, the service's iOS app has received some other new albeit minor features as well. In the 'Explore' list, you can now sort results both by distance and by the best match. There are some new filters available as well, which can be used to get more refined search results.
Foursquare is a free app, and the new check-in by friends feature has been rolled out on both iOS and Android. Give it a go by following the links below.
Install Foursquare for Android