Check Which iOS Device Is Compatible With The New AirPods
Apple's September event has come and gone with the announcement of the new iPhone 7. The latest iPhone certainly has quite a few impressive features but people can't seem to stop talking about the Apple's other newest product; the AirPods. AirPods are being hailed as both an incredibly innovative and bold step to redefine technology, and as a completely idiotic move. The AirPods look pretty cool but are small and very easy to lose. People might actually prefer untangling their headphones over losing the new $159 pair of AirPods which have to be bought separately. During the keynote, the technology that went into developing this new accessory was also mentioned and that raises the question of compatibility. Which iOS devices can actually support the new AirPods?
AirPods are essentially little Bluetooth speakers that can do lots of things e.g. recognize touch and tell when they're inside your ear or not. It's logical to assume that any iOS device that has Bluetooth can connect with AirPods and that's almost correct.
According to Apple's website, the iPhone 5 and above will be able to connect with the AirPods. That's considerable legacy support for Apple. All iPad Air and iPad mini 2 and above models can likewise support it. The iPad Pro is also compatible as is the iPod Touch 6th Gen, and the 38mm and 42mm watch case models.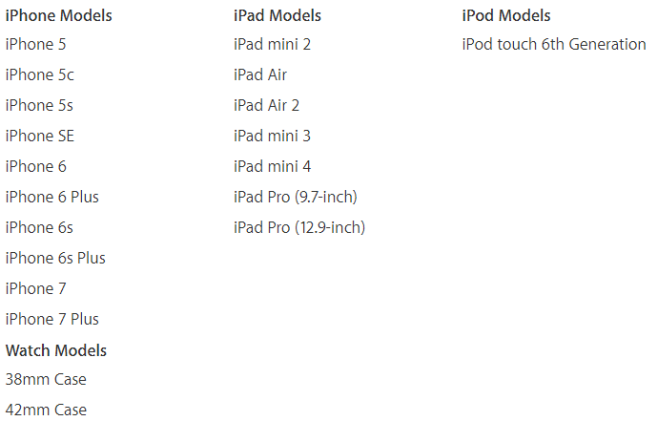 The AirPod is meant to work with an iOS device but as we pointed out earlier, it works over Bluetooth which means it's also compatible with non-iOS devices. Specifically, the AirPod can work with Android phones as well. Since there are too many Android sets in the market, it's not possible to tell which ones it will be compatible with. Newer handsets shouldn't have a problem. They will also work with iMacs though the compatibility list by Apple doesn't include its desktop systems.
There's a solid chunk of the internet currently debating whether this product is a joke or not. Some people are livid that the traditional phone jack has been removed while others say it had to eventually happen. The jury is more or less still out on this. Will you be buying the new AirPods?