Create Videos With Embedded Interactive Items On iPad Using TouchCast
Roughly speaking, TouchCast might be labeled as a video editor, but you can also consider it to be a pioneer of a completely new way of presenting and sharing information. iPad already has plenty of feature-rich video editors, like the recently covered vjay, but TouchCast isn't so much about making changes to a video than it is about creating a finished product from scratch. The closest thing we have seen to TouchCast is Clickberry, but that is a desktop tool, which makes it useless if you want to create a presentation or a how-to on your iOS device. TouchCast lets you shoot videos using the front and rear cams of your iPad, and then you can add clickable content in these videos. The content that can appear in TouchCast videos ranges from webpages to live opinion polls and even a real-time Twitter stream!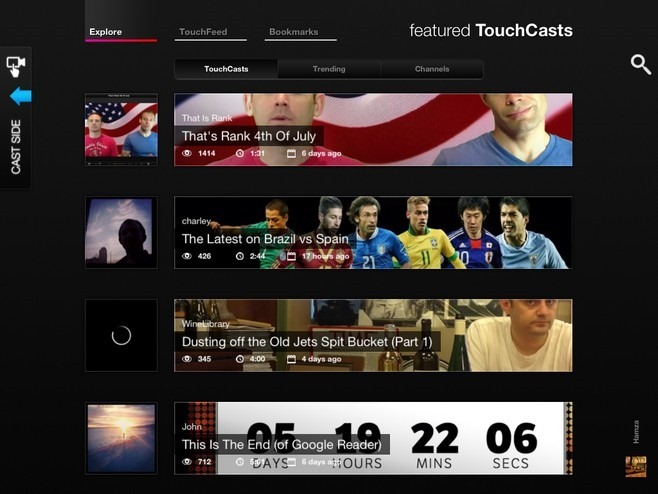 You can log in to TouchCast using your Facebook account, or create a new account for the app using your email. Once you have registered, choose a name for your TouchCast channel, along with your personal username and a display picture for the profile.
Making TouchCast videos can appear to be a slightly intimidating task, so it is better if you start by watching a few posts from others. These videos can be viewed by heading to the app's 'Featured' page or performing a search.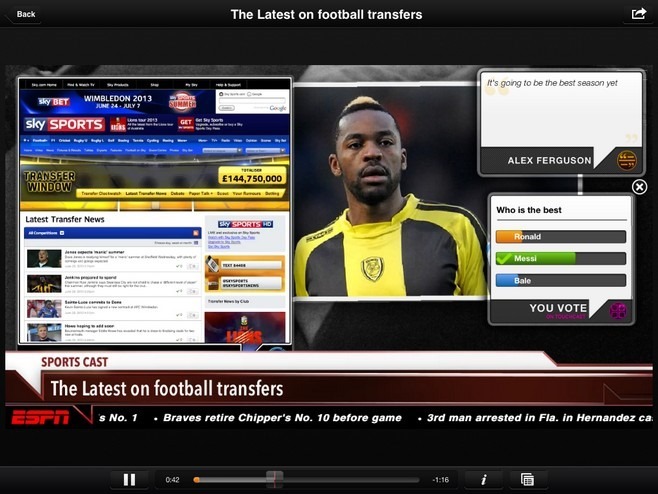 Just like any normal videos, the videos available in the app have linear playback but thanks to the seek bar located at the bottom of the screen, you can jump to any point in them pretty quickly. At different points in the video, different interactive and clickable items show up on the screen, and you can use them according to their functionality.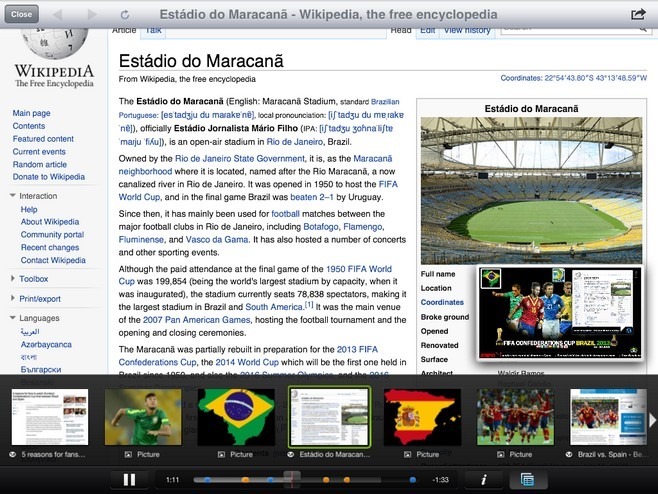 A poll shown in a TouchCast video can be used within the main screen, while viewing a webpage minimizes the video while shifting focus on the page's content. Maps and tweet streams can be viewed and even scrolled right on the main screen. To get a complete list of all attached content, hit the newspaper icon located on the right of the seek bar.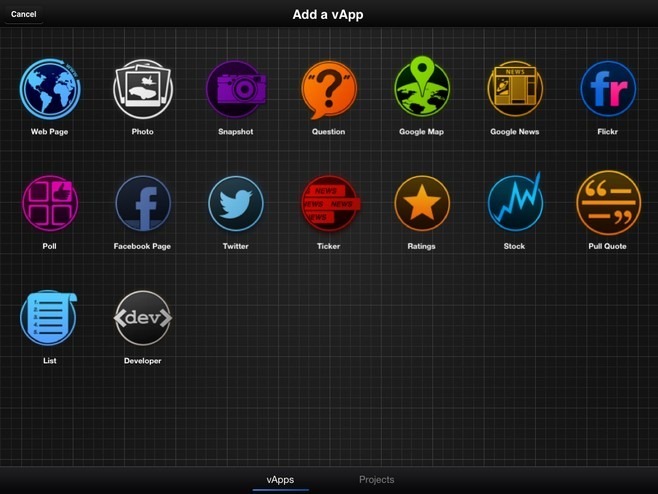 To start creating and publishing your own videos, head to the app's main screen and then swipe to the right from the left edge. Choose a theme that goes well with your topic; some of the things that TouchCast can be used for are tutorials, newscasts, presentations or just fun videos. Some of the vApp (any interactive content that you wish to embed in your video) categories that show up in TouchCast include webpages, media, polls, questionnaire, stock prices, live ratings and lists. Social media streams and programming code can also be added to your videos.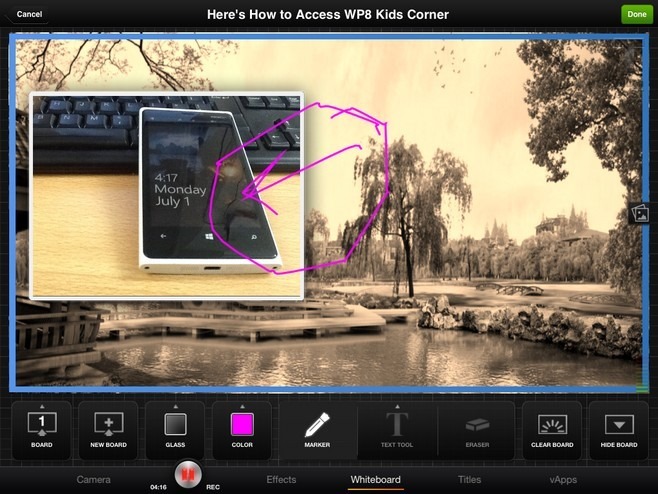 If you want to feature yourself in your video as the main host, just start recording after getting everything in place, while if you want an image as the background for all the added content instead, head to the 'Effects' section and go for the 'Green Screen' option. TouchCast has a number of visual and audio effects, which can add some extra oomph to your videos. You can add these effects during a recording session, or before even getting started. Thanks to the 'Whiteboard' section of TouchCast, users get to draw on the screen in real-time. This can be really helpful if you are creating a how-to.
Once a recording session has ended, you can choose to publish the video to your channel, or keep it saved in your account for personal use. Shared TouchCast videos don't feature interactive content, unless the recipient is also using the app. Despite that, TouchCast is a useful addition to the App Store, and we can't believe such a useful app is available for free. Do give it a go if you own an iPad.
Install TouchCast from App Store